Employee Selection Training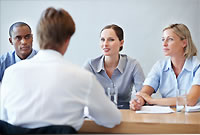 Employee Selection training will help you establish an effective hiring process from start to finish. Our online course is based on Dr. D. Quinn Mills' book, Principles of Human Resource Management. It will cover successful job descriptions and specifications, recruiting techniques, pre-employment testing and screening, and how to handle obstacles and dilemmas along the way. This employee selection process course will help you conduct better interviews, avoid discriminatory questions and ultimately select the best candidates for the job and company culture.
Course Content
Finding the Right Person
Job Analysis
Selection Process
eSelection and eRecruitment
Job Interviews
Employee Fit
Testing Prospective Employees
Hiring Dilemmas
Employee Retention
Volume Pricing
To enroll 10 or more employees in this Process of Employee Selection course, or to integrate any of our business skills courses with your Learning Management System, submit your request using our contact form or call 1-888-658-6641 during our normal business hours 9:00 am - 5:30 pm EST, M - F. One of our representatives will gladly assist you.
After completing Employee Selection you should be able to:
Conduct an effective job interview.
Ask questions that elicit relevant information.
Avoid questions that might be seen as discriminatory.
Identify when additional tests should be administered to candidates.
Deal productively and sensitively with internal candidates for a job opening.
Select the best candidate from a large, diverse pool of high-quality applicants.
This course is designed for adult learners interested in improving their employee selection process.
Access Time: 90 days
Average Completion Time: 3 - 5 hours
Prerequisites: No prerequisites
Format: Self-paced online course
Fee: $79.00
Course Credit: 0.3 CEUs | 3.0 HRCI Credits | 3.0 SHRM Credits
Online, self-paced course
Open enrollment 24/7/365
No prerequisites
Interactive review exercises
Professional videos with complete transcripts
Ask the Expert feature - Submit questions directly to our experts
CEU/HRCI/SHRM Certificate
Access Time: You will have full access to Employee Selection for 90 days. For additional access time, consider enrolling in our Certificate in Human Resource Management. Certificate Program students get access to Introduction to Human Resource Management, Compensation and Benefits, Data and Human Resource Management, Employee Selection, Equal Employment Opportunity (EEO) Training, Performance Management, and Talent Management and Career Development for 365 days.
Completion Time: Completion time is dependent on several factors. The average completion time for this class is 3 - 5 hours. A student's prior knowledge, Internet connection speed, reading comprehension, optional exercises and videos all contribute to how quickly students complete our courses.
Certificate: An average test score of 70% is required to complete Employee Selection. Upon successful completion of this online course, you will be able to print your certificate including CEUs, HRCI Credits, and/or SHRM Credits instantly.
Access to an Internet connection
An updated Internet browser such as Chrome, Edge, Firefox, Safari
Web browser support for cookies (typically enabled by default)
Adobe Reader or Adobe Acrobat - Download Adobe Reader (free)
If you're unsure about any of these requirements or if you have questions please contact us through our contact form or by calling 1-888-658-6641 during our normal business hours 9:00 am - 5:30 pm EST, M - F. One of our representatives will gladly assist you.