Checkpoint 360™ | 360 Degree Feedback Assessment
Includes individual development guide and areas of focus for leadership development.
Overview
Organizations use 360 feedback assessment profiles to provide personalized feedback to their leaders. Unfortunately, these reports can become overly expensive, extremely time consuming and many require certifications to use.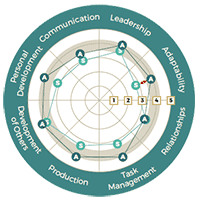 Checkpoint 360™ is a cutting-edge, online 360 feedback assessment profile that combines the detail of a typical 360 profile with the simplicity and power of PXT Select™. The result is an assessment that is detailed, valid and reliable. You will also find that it is extremely easy to understand.
Checkpoint 360 Features
20+ pages focused on the leader
Research validated model
Easy to read visual report elements
Rich feedback and data breakdowns
Comparison and summary of survey items
Individual development plan and key areas of focus
New Approach to 360 Feedback Profiling
Traditionally 360 degree feedback tools are extremely time consuming and can create uncomfortable situations in the workplace. Checkpoint 360 minimizes these problems with its clear visuals and summary layout. Colleagues, or raters, anonymously rate one of your organization's leaders across approximately 70 leadership behaviors using our confidential online profile system. The ratings are combined to generate a comprehensive 360 feedback report on skills as viewed by self and others. This allows your raters to provide feedback that's reliable, balanced and constructive. The convenience of an online profile combined with our rating system saves time while keeping the information simple and organized.
Checkpoint 360 Assessment: #CP-360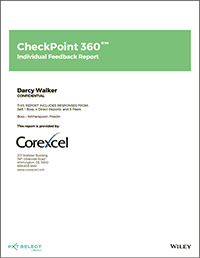 Sample Report
The Checkpoint 360 Degree Feedback Profile is an online assessment system for providing feedback to an organizational leader from direct reports, managers, peers and others. In addition to the feedback provided with traditional 360 profiles, The Checkpoint 360 assessment provides personalized strategies for improving leadership effectiveness. Its big-picture feedback is delivered through highly descriptive words and personalized areas of focus. The feedback includes raters' scores for each of the 8 approaches below:
Leadership
Adaptability
Relationships
Task Management
Production
Development of Others
Personal Development
Communication
| | |
| --- | --- |
| 1 - 19 | $400.00 each |
| 20 - 99 | $329.00 each |
| 100 - 199 | $305.00 each |
| 200+ | $282.00 each |
For additional information about our 360 Degree Feedback Profile, please call 1-888-658-6641 during normal business hours, 9:00 am - 5:30 pm EST, M - F or send your request using our contact form.
"Checkpoint 360" is a registered trademark of John Wiley & Sons, Inc.