Digital Marketing Certificate Program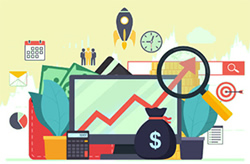 This online certificate program introduces users to internet marketing strategies. Interactive exercises, videos, and case studies will provide a framework for learning marketing tools such as optimization, automation, pay per click, social media, and analytics.
Certificate in Digital Marketing
:
$
549
Certificate Overview
The Certificate in Digital Marketing offers professionals training in implementing marketing strategies current with technology. Learners will work their way through a series of marketing topics that will help them drive traffic to their site and get conversions from their target audience. The courses included in this certificate program are:
Volume Pricing
To enroll 10 or more employees in Certificate in Digital Marketing, or to integrate any of our business skills courses with your Learning Management System, submit your request using our contact form or call 1-888-658-6641 during our normal business hours 9:00 am - 5:30 pm EST, M - F. One of our representatives will gladly assist you.
After completing the Certificate in Digital Marketing you should be able to:
List the uses of social media and SEO in content marketing.
Create a goal-oriented content marketing plan.
List strategies for increasing your conversion rate through a digital marketing campaign.
Discuss using SWOT and SMART goals in internet marketing.
Explain ethical and legal pitfalls in online marketing.
Use AIDA principles in the buying cycle.
Describe useful data types for lead capture and marketing automation.
List methods for identifying mobile users.
Use mobile advertising, responsive design, and location-based services in your marketing plan.
Explain the differences in search engine marketing (SEM) and search engine optimization (SEO).
Describe the uses of keyword planners and analytics reports.
Examine SEO processes and how they impact search rankings.
List methods for using social media to promote audience engagement.
Discuss implicit data, explicit data, and the use of web analytics.
The Digital Marketing Certificate program is intended for professionals looking to implement online marketing strategies.
Certificate Fee: $549.00
Course Credit: 3.0 CEUs | 16.0 HRCI Credits | 10.5 PDUs
Number of Courses: 9
Course Format: Self-paced online certificate program
Completion Time: 30 hours
Access: 365 days
Prerequisites: No prerequisites
Online, self-paced courses
Open enrollment 24/7/365
No prerequisites
Interactive review exercises
Professional videos with complete transcripts
Ask the Expert feature - Submit questions directly to our experts
CEU, HRCI, and/or PDU Certificate
Access Time: You get full access to Content Marketing, Conversion Rate Optimization, Digital Marketing Strategy, Marketing Automation, Mobile Marketing, Paid Search (PPC), Search Engine Optimization, Social Media Marketing, and Web Analytics, for 365 days.
Completion Time: Completion time is dependent on several factors. The average completion time for this certificate program is 30 hours. A student's prior knowledge, Internet connection speed, reading comprehension, optional exercises and videos all contribute to how quickly students complete our certificate programs.
Certificate: An average test score of 70% is required to complete each certificate course. Upon successful completion of all of the certificate courses, you will be able to print your certificate including CEUs, HRCI Credits, and/or PDUs instantly.
Access to an Internet connection
An updated Internet browser such as Chrome, Edge, Firefox, Safari
Web browser support for cookies (typically enabled by default)
Adobe Reader or Adobe Acrobat - Download Adobe Reader (free)
If you're unsure about any of these requirements or if you have questions please contact us through our contact form or by calling 1-888-658-6641 during our normal business hours 9:00 am - 5:30 pm EST, M - F. One of our representatives will gladly assist you.