Management Courses Online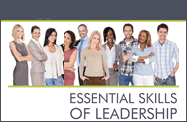 Why Management Courses?
Poor management is the most common reason that people leave their jobs.
Developing good managers means increased retention and employee satisfaction.
Good managers are good for business.
Why Online?
Online learning gives you flexibility because it's available when you need it.
Online learning allows you to fill individual needs cost effectively.
Online courses are available for 1 full year so managers can revisit lessons as needed.
Print your completion certificate instantly when you finish the course.
Leadership Essentials
Coaching Job Skills
Communicating Up
Delegating
Developing Performance Goals and Standards
Effective Discipline
Essential Skills of Communicating
Essential Skills of Leadership
Improving Work Habits
Managing Complaints
Providing Performance Feedback
Resolving Conflicts
Supporting Change
Leadership Plus
Developing and Coaching Others: Leadership Version
Hiring Winning Talent
Motivating Team Members
Solving Workplace Problems
Sales
The Incoming Sales Call
Making Customer Recommendations
Customer Service
Dealing with Difficult Customer Situations
Delivering Customer Focused Service
STAR Service
Productivity
Achieving Communication Effectiveness
Diversity Awareness
Professionalism in the Office
If you have questions about our online management courses please send 1-888-658-6641 in the U.S., 1-302-477-9730 outside of the U.S., or submit your question through our contact form.