PMP 6 - Project Cost Management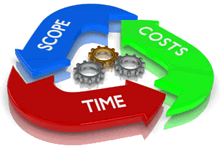 Project Cost Management is an online course designed to help project management professionals study PMBOK Guide techniques for managing costs. Learn cost management and how to estimate a budget for your projects with this interactive self-paced online course. The exercises, video commentary and detailed course content provides knowledge on cost control and how to keep project budgets on track.
PMP 6 - Project Cost Management
:
$
79
Course Content
Project Cost Management
Determine Budget and Cost Performance Baseline
Cost Analysis and Cost Control
Best Practices: Cost Estimating and Budgeting
Project Cost Management Key Terms
Volume Pricing
To enroll 10 or more employees in PMP 6 - Project Cost Management, or to integrate any of our business skills courses with your Learning Management System, submit your request using our contact form or call 1-888-658-6641 during our normal business hours 9:00 am - 5:30 pm EST, M - F. One of our representatives will gladly assist you.
After completing PMP 6 - Project Cost Management you should be able to:
Define cost management and its associated cost management plan.
Explain the various inputs and methods for estimating activity cost.
Understand how to aggregate activity costs in order to determine budget and project funding requirements.
Understand cost performance and performance measurement baselines and their importance in earned value management.
Calculate planned value, earned value, actual cost, schedule and cost variance, and schedule and cost performance indexes.
Understand how baselines, planned value, earned value, and actual cost can be represented in graphic form.
Use concepts such as budget and estimate at completion and performance index to forecast the cost requirements of a project.
Recognize when a project is behind schedule or overrunning its budget and explain possible responses.
Explain performance reporting techniques and updates to project documentation.
Understand project selection, return on investment and internal rate of return.
This course is intended as an online study supplement to PMBOK Guide cost management for learners who have moderate project management experience.
Access Time: 90 days
Average Completion Time: 3-4 hours
Prerequisites: Learners should have some experience in project management and will need to have access to the Project Management Institute's A Guide to the Project Management Body of Knowledge (PMBOK® Guide).
Format: Self-paced online course
Fee: $79.00
Course Credit: 0.5 CEUs
Online, self-paced course
Open enrollment 24/7/365
No prerequisites
Interactive review exercises
Professional videos with complete transcripts
Ask the Expert feature - Submit questions directly to our experts
CEU Certificate
Access Time: You will have full access to PMP 6 - Project Cost Management for 90 days.
Completion Time: Completion time is dependent on several factors. The average completion time for this class is 3-4 hours. A student's prior knowledge, Internet connection speed, reading comprehension, optional exercises and videos all contribute to how quickly students complete our courses.
Certificate: An average test score of 70% is required to complete PMP 6 - Project Cost Management. Upon successful completion of this online course, you will be able to print your certificate including CEUs instantly.
Access to an Internet connection
An updated Internet browser such as Microsoft Internet Explorer 7.0 (or higher) Mozilla Firefox 10 (or higher) or Google Chrome 10.0 (or higher)
Web browser support for cookies (typically enabled by default)
Adobe Reader or Adobe Acrobat - Download Adobe Reader (free)
An installation of Adobe's Flash Player 8 (or higher) - Download Adobe Flash Player (free)
If you're unsure about any of these requirements or if you have questions please contact us through our contact form or by calling 1-888-658-6641 during our normal business hours 9:00 am - 5:30 pm EST, M - F. One of our representatives will gladly assist you.