Finance Certificate Program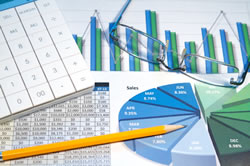 Our Finance Certificate Program includes six online courses that cover essential financial skills. You will discover practical tools for financial decision making. Learn with examples from the Harvard Business School, study financial models and review high-level case studies. Learn to interpret financial statements, decipher business statistics, assess risk, and manage budgets.
Certificate in Finance Essentials
:
$
399
Certificate Overview
Financial Planning & Control focuses on making sound financial decisions in your organization. You'll learn how to conduct a cost benefit analysis and how to track performance measures. View sample equations and worksheets for break-even analysis and analyzing fixed costs versus variable costs.
How to Read a Financial Statement, teaches how to interpret financial statements and use accounting concepts to help you assess financial performance. Through professional videos from Babson College faculty and recommended readings from Business Essentials: Finance for Managers, you will learn to use ratio analysis to compare firms in the same industry.
Introduction to Business Statistics, teaches you how to use statistics in business. You will learn how to read and analyze statistical data and present descriptive statistics for marketing and accounting. You will also walk away with an understanding of how to calculate statistics and test business theories.
Introduction to Finance online business class provides an overview of finance for non-financial managers. You will learn about financial management and corporate finance tools through articles from CFO.com and Forbes. You will also learn the vocabulary of the financial environment and how to make good monetary decisions.
Time Value of Money and Risk reviews the basic time value of money principles used when evaluating financial decisions and their impact on cash flow. You'll also learn how to define risk and calculate risk and rates of return.
Understanding & Managing Budgets focuses on how to develop budgets. You will learn about cash flow and how to prepare operating budgets for your company. You will read through selections from D. Quinn Mill's Principles of Management and review real case studies.
Volume Pricing
To enroll 10 or more employees in Certificate in Finance Essentials, or to integrate any of our business skills courses with your Learning Management System, submit your request using our contact form or call 1-888-658-6641 during our normal business hours 9:00 am - 5:30 pm EST, M - F. One of our representatives will gladly assist you.
After completing the Certificate in Finance Essentials you should be able to:
Explain cost benefit analysis.
Calculate return on investment and payback period.
Be able to track performance measures.
Identify the financial statements included in a company financial report.
State the impact of business activities on cash flow.
Perform calculations using financial ratios.
Differentiate between descriptive statistics and inferential statistics.
Identify the appropriate graphical method or tabular method for presenting data.
Calculate probability and explain its practical application.
Identify and describe the structure and function of a company finance department.
Recognize and define the five key financial markets.
Explain interest rate determination and the impact of interest on an organization.
Define compounding and discounting.
Compute present value and future value for single payment amounts.
Explain how diversifiable risk can be lowered using portfolio investing.
Recognize the benefits of strategic organizational planning.
Be able to prepare a master budget.
Perform calculations for a sales, production, and cost of goods sold budget.
Our Finance Certificate Program is intended for adult learners and non-financial managers.
Certificate Fee: $399.00
Course Credit: 1.9 CEUs
Number of Courses: 6
Course Format: Self-paced online certificate program
Completion Time: 4-6 hours per course
Access: 365 days
Prerequisites: No prerequisites
Online, self-paced courses
Open enrollment 24/7/365
No prerequisites
Interactive review exercises
Professional videos with complete transcripts
Ask the Expert feature - Submit questions directly to our experts
CEU Certificate
Access Time: You get full access to Financial Planning and Control, How to Read a Financial Statement, Introduction to Business Statistics, Introduction to Finance, Time Value of Money and Risk, and Understanding and Managing Budgets, for 365 days.
Completion Time: Completion time is dependent on several factors. The average completion time for this certificate program is 4-6 hours per course. A student's prior knowledge, Internet connection speed, reading comprehension, optional exercises and videos all contribute to how quickly students complete our certificate programs.
Certificate: An average test score of 70% is required to complete each certificate course. Upon successful completion of all of the certificate courses, you will be able to print your certificate including CEUs instantly.
Access to an Internet connection
An updated Internet browser such as Chrome, Edge, Firefox, Safari
Web browser support for cookies (typically enabled by default)
Adobe Reader or Adobe Acrobat - Download Adobe Reader (free)
If you're unsure about any of these requirements or if you have questions please contact us through our contact form or by calling 1-888-658-6641 during our normal business hours 9:00 am - 5:30 pm EST, M - F. One of our representatives will gladly assist you.