Entrepreneurship Certificate Program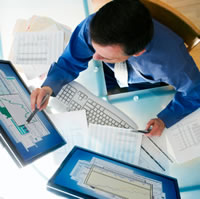 Entrepreneurs own and manage a business that profits through risk and innovation. Since you will be your own boss it is important knowing the basics of developing an idea into a successful venture in an ever changing market.
Entrepreneurs must be knowledgeable in what their business needs require and understand key topics such as discovering the right idea to build a business upon, find a market to sell to, build a good structure to turn an idea into a business, and making the business grow through strategic and financial planning. Other factors to be aware of are how profits are made and spent, how business laws work, understand what an entrepreneur is and what they do, develop good leadership and management abilities, and find ways to sell your business to the public at large.
Certificate in Entrepreneurship
:
$
599
Certificate Overview
Completing this online entrepreneurship certificate program step by step is important for it will build upon entrepreneur managerial skills, discuss the need for good time-management skills, find specialized help when necessary, and realize what it means to develop a supportive staff through good coaching, training, and communication.
Volume Pricing
To enroll 10 or more employees in Certificate in Entrepreneurship, or to integrate any of our business skills courses with your Learning Management System, submit your request using our contact form or call 1-888-658-6641 during our normal business hours 9:00 am - 5:30 pm EST, M - F. One of our representatives will gladly assist you.
After completing the Certificate in Entrepreneurship you should be able to:
Utilize the Generally Accepted Accounting Principles (GAAP).
State two rules of double-entry accounting.
Outline two principles of financial planning and budgets.
Demonstrate how to calculate a master budget.
Create a financing plan, evaluate new ventures, and perform a break-even analysis.
Describe the characteristics of a successful entrepreneur.
Outline the eight stages of the entrepreneurial process.
Discuss the strategic planning process for an entrepreneur.
Describe the options for funding and implementing the plans for a new venture.
Recognize the ethical issues faced by entrepreneurs.
Outline the five key managerial roles of an entrepreneur.
Describe the techniques for time management and organizing, planning, and prioritizing.
Describe the process for staffing, training and coaching employees.
Discuss the importance of active listening when communicating with employees.
Describe the role of strategy and marketing for a new venture.
Explain marketing basics, including the strategic marketing process and the Four P's.
This course is designed for adult learners interested in gaining a basic understanding of Entrepreneurship through these online courses: business accounting and finance, business law, understanding aspects of entrepreneurship, leadership and management issues, and strategic marketing for entrepreneurs.
Certificate Fee: $599.00
Course Credit: 2.5 CEUs
Number of Courses: 5
Course Format: Self-paced online certificate program
Completion Time: 4 - 6 hours per course
Access: 365 days
Prerequisites: No prerequisites
Online, self-paced courses
Open enrollment 24/7/365
No prerequisites
Interactive review exercises
Professional videos with complete transcripts
Ask the Expert feature - Submit questions directly to our experts
CEU Certificate
Access to an Internet connection
An updated Internet browser such as Chrome, Edge, Firefox, Safari
Web browser support for cookies (typically enabled by default)
Adobe Reader or Adobe Acrobat - Download Adobe Reader (free)
If you're unsure about any of these requirements or if you have questions please contact us through our contact form or by calling 1-888-658-6641 during our normal business hours 9:00 am - 5:30 pm EST, M - F. One of our representatives will gladly assist you.