Sustainability Management Certificate Program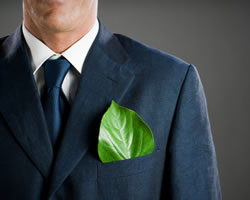 Our Sustainability Management Certificate Program begins with An Overview of Sustainable Management where you will learn about corporate sustainability, government regulation, management scenarios and more. From there you will move on to Corporate Social Responsibility which is all about running a green business while maintaining profitability. The Sustainability Management Certificate Program online also includes the three additional courses on measuring performance, leadership ethics, and triple bottom line accounting.
Certificate in Sustainable Management
:
$
299
Certificate Overview
Sustainability is an important part of business development in today's eco-friendly culture. "Going green" shows corporate social responsibility and helps organizations manage their resources for the future. This online certificate program in Sustainable Management provides an interactive learning experience for managers looking to increase their sustainable development. Key topics in sustainability management will be discussed, such as environmental issues, embracing sustainable development in an organization, government regulation, triple bottom line accounting, and how to assess sustainability practices.
Volume Pricing
To enroll 10 or more employees in this Sustainable Management certificate program online, or to integrate any of our business skills courses with your Learning Management System, submit your request using our contact form or call 1-877-711-9557 during our normal business hours 9:00 am - 5:30 pm EST, M - F. One of our representatives will gladly assist you.
After completing the Certificate in Sustainable Management you should be able to:
Discuss sustainability management and how it's applied in an organizational setting.
Discuss the connection between sustainability and ecosystems.
Define corporate social responsibility and explain how it has gained momentum recently.
List three corporate social responsibility standards and how they are measured.
Describe corporate social responsibility best practices.
Discuss how managers measure their sustainable management practices.
Describe the methods of calculating ROI for sustainability management decisions and green investments.
Discuss the role of ethics in the workplace.
List two of the major ethical frameworks used for developing business ethics.
Describe the triple bottom line accounting concept and its three pillars of People, Planet, and Profits.
Executives, entrepreneurs, students and anyone who is interested in advancing their understanding of sustainable management.
Certificate Fee: $299.00
Course Credit: 1.5 CEUs
Number of Courses: 5
Course Format: Self-paced online certificate program
Completion Time: 20 - 25 hours
Access: 365 days
Prerequisites: No Prerequisites
Online, self-paced courses
Open enrollment 24/7/365
No prerequisites
Interactive review exercises
Professional videos with complete transcripts
Ask the Expert feature - Submit questions directly to our experts
CEU Certificate
Access to an Internet connection
An updated Internet browser such as Chrome, Edge, Firefox, Safari
Web browser support for cookies (typically enabled by default)
Adobe Reader or Adobe Acrobat - Download Adobe Reader (free)
If you're unsure about any of these requirements or if you have questions please contact us through our contact form or by calling 1-888-658-6641 during our normal business hours 9:00 am - 5:30 pm EST, M - F. One of our representatives will gladly assist you.