Leadership Strategies Certificate Program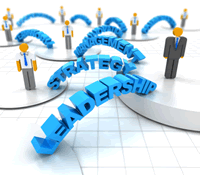 The Leadership Strategies Certification includes four online leadership training courses. Through this online certificate program, you will learn how to lead and build effective teams. These online modules will use leadership videos and case studies to give you an introduction to leadership concepts. You will also be able to download selected chapters from Harvard Business School professor D. Quinn Mills' text Leadership: How to Lead, How to Live.
Certificate in Leadership
:
$
199
Certificate Overview
What is leadership? The Introduction to Leadership online course will help you answer that question. You will learn leadership concepts and how to be successful in your role as a leader. Online exercises allow you to practice leadership skills and develop your leadership style.The second course in the Certificate in Leadership program will teach you about Leaders & Work-Life Balance. You will learn the healthy habits of effective leaders. You will learn leadership values and how to set personal goals for your career. Learn to identify conflict and balance work and family through this leadership training course with lessons from the text Leadership: How to Lead, How to Live. Supplement your management experience with the Leading and Managing Change online course. Based on D. Quinn Mills' text, Principles of Management, you will learn about organizational culture shift and how to lead change. You will study various change strategies in our leadership certificate program, such as John Kotter's model and learn how to overcome resistance to change. The Leading Teams course will provide you with extra training on how to be a team leader. Discover the issues of leadership and develop skills for leading teams. You will learn how to manage conflict and motivate employees to increase team effectiveness.
Volume Pricing
To enroll 10 or more employees in Certificate in Leadership, or to integrate any of our business skills courses with your Learning Management System, submit your request using our contact form or call 1-888-658-6641 during our normal business hours 9:00 am - 5:30 pm EST, M - F. One of our representatives will gladly assist you.
After completing the Certificate in Leadership you should be able to:
Define leadership and explain its importance.
Explain the role of leadership ethics.
Identify and develop five central skills needed for effective leadership.
Identify the major sources of conflict in work-life balance.
Develop and complete a Personal Work-Life Balance Plan.
Discuss organizational change and the forms it can take.
Describe Kotter's Eight Step Process recommended for implementing change successfully.
Outline Lewin's model of change and discuss its limitations.
Understand strategic change and managing a changing environment.
Identify differences in primary and secondary roles filled by teams and leaders.
Recognize the key sources of motivation for effective teams.
The online Certificate in Leadership is intended for leaders and managers who want to develop their leadership skills.
Certificate Fee: $199.00
Course Credit: 2.0 CEUs | 20.0 PDUs
Number of Courses: 5
Course Format: Self-paced online certificate program
Completion Time: 3 - 5 hours per course
Access: 365 days
Prerequisites: No prerequisites
Online, self-paced courses
Open enrollment 24/7/365
No prerequisites
Interactive review exercises
Professional videos with complete transcripts
Ask the Expert feature - Submit questions directly to our experts
PDU and/or CEU Certificate
Access Time: You get full access to Body Language for Leaders, Introduction to Leadership, Leaders and Work-Life Balance, Leading and Managing Change, and Leading Teams, for 365 days.
Completion Time: Completion time is dependent on several factors. The average completion time for this certificate program is 3 - 5 hours per course. A student's prior knowledge, Internet connection speed, reading comprehension, optional exercises and videos all contribute to how quickly students complete our certificate programs.
Certificate: An average test score of 70% is required to complete each certificate course. Upon successful completion of all of the certificate courses, you will be able to print your certificate including CEUs and/or PDUs instantly.
Access to an Internet connection
An updated Internet browser such as Chrome, Edge, Firefox, Safari
Web browser support for cookies (typically enabled by default)
Adobe Reader or Adobe Acrobat - Download Adobe Reader (free)
If you're unsure about any of these requirements or if you have questions please contact us through our contact form or by calling 1-888-658-6641 during our normal business hours 9:00 am - 5:30 pm EST, M - F. One of our representatives will gladly assist you.