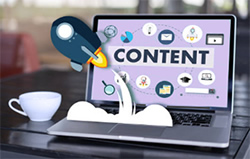 This Content Marketing online course is designed to help learners create a content strategy for marketing to a targeted audience. Users will learn how to create effective campaigns through video and channel management, as well as how to use performance metrics to measure goals.
Course Content
What Is Content Marketing?
The Content Marketing Plan
Content Marketing Strategies
Case Study: Target Audience
Influencers
Channel Management
Using Video Content
Measuring Effectiveness
Free and Paid Metrics
The Content Audit
Volume Pricing
To enroll 10 or more employees in Content Strategy training, or to integrate any of our business skills courses with your Learning Management System, submit your request using our contact form or call 1-888-717-4792 during our normal business hours 9:00 am - 5:30 pm EST, M - F. One of our representatives will gladly assist you.
After completing Content Marketing you should be able to:
Relate content marketing to social media and SEO.
Create a purpose and goals for a content marketing plan.
Describe the online marketing funnel and target audiences at each stage.
Explain channel management and the use of video content.
List performance metrics and explain the content audit.
This course is intended for business professionals who want to create a strategic marketing approach.
Access Time: 90 days
Average Completion Time: 3.5 hours
Prerequisites: No prerequisites
Format: Self-paced online course
Fee: $89.00
Course Credit: 0.3 CEUs | 3.5 HRCI Credits
Online, self-paced course
Open enrollment 24/7/365
No prerequisites
Interactive review exercises
Professional videos with complete transcripts
Ask the Expert feature - Submit questions directly to our experts
CEU and/or HRCI Certificate
Access Time: You will have full access to Content Marketing for 90 days. For additional access time, consider enrolling in our Certificate in Digital Marketing. Certificate Program students get access to Content Marketing, Conversion Rate Optimization, Digital Marketing Strategy, Marketing Automation, Mobile Marketing, Paid Search (PPC), Search Engine Optimization, Social Media Marketing, and Web Analytics for 365 days.
Completion Time: Completion time is dependent on several factors. The average completion time for this class is 3.5 hours. A student's prior knowledge, Internet connection speed, reading comprehension, optional exercises and videos all contribute to how quickly students complete our courses.
Certificate: An average test score of 70% is required to complete Content Marketing. Upon successful completion of this online course, you will be able to print your certificate including CEUs and/or HRCI Credits instantly.
Access to an Internet connection
An updated Internet browser such as Chrome, Edge, Firefox, Safari
Web browser support for cookies (typically enabled by default)
Adobe Reader or Adobe Acrobat - Download Adobe Reader (free)
If you're unsure about any of these requirements or if you have questions please contact us through our contact form or by calling 1-888-658-6641 during our normal business hours 9:00 am - 5:30 pm EST, M - F. One of our representatives will gladly assist you.