Delivering Customer Focused Service

Online Customer Service Course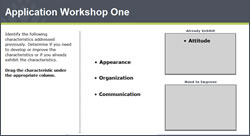 The importance of professionalism to the customer service professional cannot be underestimated. Your professionalism is a direct reflection on you and your company. Professionalism is the basis for your customers' confidence in you and your company and ultimately impacts your company's bottom-line.
Delivering Customer Focused Service is an online customer service course that examines your role as a professional. During this training, you will learn guidelines for delivering customer service including understanding your role as a professional, the essential skills of communication, and a four-step customer service model. Most people will take approximately 60 minutes to complete the course.
Course Cost
$2450 for 50 online course seats
Course Lessons
Introduction
Delivering Customer Focused Service
What is Your Role as a Professional?
The Essential Communication Skills
The Four-Step Customer Service Model
Conclusion
Course Objectives
Describe the importance of professionalism to a customer service professional.
List action items that if achieved will improve your professionalism.
Describe the importance of each of the essential communication skills (listening, questioning, verifying, and explaining) in customer service situations.
Perform the four steps of the customer service process, including proper use of the essential communication skills.