Statistical Process Control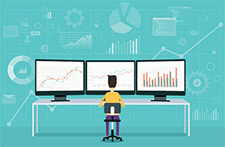 Quality management is a key principle in providing valuable products and resources to clients. The Statistical Process Control online course will provide you with the basics of quality management to influence data-driven decisions with analysis and Ishikawa's Seven Basic Quality Tools. You will use the SIPOC diagram to control processes and create solutions to quality control problems.
Statistical Process Control
:
$
79
Course Content
Quality Management Principles
Quality Control vs. Quality Assurance
SIPOC Diagram
Statistics, Metrics, Quality, and Control Limits
Ishikawa's Seven Basic Quality Tools
Quality Management Programs
Lean Systems and Six Sigma
Reliability
Volume Pricing
To enroll 10 or more employees in Statistical Process Control, or to integrate any of our business skills courses with your Learning Management System, submit your request using our contact form or call 1-888-658-6641 during our normal business hours 9:00 am - 5:30 pm EST, M - F. One of our representatives will gladly assist you.
After completing Statistical Process Control you should be able to:
Identify quality management principles to coordinate schedules and manage change.
Explain the difference between quality control and quality management.
Use the SIPOC diagram to create work processes.
Explain the importance of statistics and metrics in controlling work flow.
Use Ishikawa's Seven Basic Quality Tools to create to solutions to quality control issues.
This course is intended for professionals engaged in quality management.
Access Time: 90 days
Average Completion Time: 5 hours
Prerequisites: None
Format: Self-paced online course
Fee: $79.00
Course Credit: 5.0 CPEs | 5.0 PDUs | 0.5 CEUs
Online, self-paced course
Open enrollment 24/7/365
No prerequisites
Interactive review exercises
Professional videos with complete transcripts
Ask the Expert feature - Submit questions directly to our experts
CPE, PDU and/or CEU Certificate
Access Time: You will have full access to Statistical Process Control for 90 days. For additional access time, consider enrolling in our Certificate in Data Analytics. Certificate Program students get access to Data Analysis for Improving Organizational Performance, Data Analysis in the Real World, Introduction to Data Analysis, Statistical Process Control, Statistics as a Managerial Tool, and Tools of Data Analysis for 365 days.
Completion Time: Completion time is dependent on several factors. The average completion time for this class is 5 hours. A student's prior knowledge, Internet connection speed, reading comprehension, optional exercises and videos all contribute to how quickly students complete our courses.
Certificate: An average test score of 70% is required to complete Statistical Process Control. Upon successful completion of this online course, you will be able to print your certificate including CPEs, PDUs, and/or CEUs instantly.
Access to an Internet connection
An updated Internet browser such as Chrome, Edge, Firefox, Safari
Web browser support for cookies (typically enabled by default)
Adobe Reader or Adobe Acrobat - Download Adobe Reader (free)
If you're unsure about any of these requirements or if you have questions please contact us through our contact form or by calling 1-888-658-6641 during our normal business hours 9:00 am - 5:30 pm EST, M - F. One of our representatives will gladly assist you.