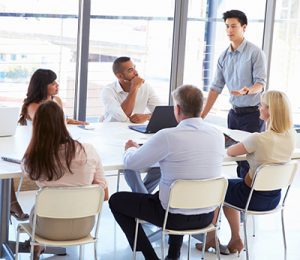 Leaders, even experienced ones, can be caught off guard by management and leadership challenges.
Are your leaders often misunderstood?
Do they forge ahead with solutions when they should be taking time to test assumptions?
How about thinking that everyone is on board with their ideas, when the team is just fearful of speaking up?
During our complimentary webinar, you'll discover how three tools have helped thousands of emerging and experienced leaders create better results through self-awareness and personal action planning:  Everything DiSC Management and Work of Leaders. You'll gain insights on:
The key attributes and best practices of management and leadership
Why gaining feedback is a critical element of leadership development
How to layer individual programs for optimum results
Don't have a current leadership development program? We'll help you get started.
Date:  May 30, 2018
Contact Us to request the webinar recording.
Learn more about these assessments, request a demo or make a purchase: