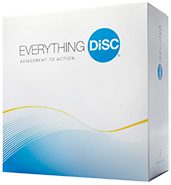 Become a Star Facilitator! Join our Everything DiSC Workplace webinar…
Officially titled, Bring Everything DiSC Workplace to Your Team, this webinar will demonstrate the features and benefits of the Everything DiSC Workplace Facilitation Kit. Discover just how easy the facilitation kit makes it to conduct 1-hour to 1-day workshops in this complimentary Everything DiSC Workplace webinar. We will also explore the Everything DiSC Workplace assessment.
In this webinar, you will learn to use the new step-by-step kit and your team's profile results to build better relationships. Help your team learn to communicate more effectively by:
Discovering their DiSC style
Understanding other styles
Learning to build more effective relationships
You'll see samples of the PowerPoint slides, exercises and powerful new videos.  We will also demonstration MyEverythingDiSC, the online interactive portal/app that allows your team to compare themselves with coworkers they communicate with daily.
Date:  April 26, 2018
Contact Us to request the webinar recording.
Learn more about Everything DiSC Workplace, request a demo or make a purchase.