MyEverythingDiSC App
Online App for Profile Comparison between Co-Workers & Learning More About DiSC® Styles
Overcome Conflict & Challenges with MyEverythingDiSC!
MyEverythingDiSC is a free online app that provides additional information about DiSC styles. It allows you to get timely tips for working with your co-workers, teammates, classmates and more. Ask your EPIC Account Administrator to enable MyEverythingDiSC today!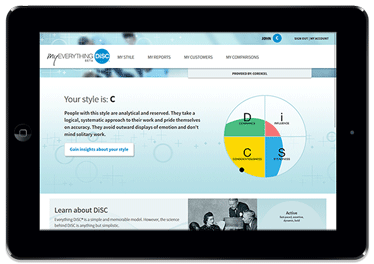 MyEverythingDiSC Features
The #1 feature of MyEverythingDiSC is the price. It is 100% free. Employees at organizations that use MyEverythingDiSC can:
Access all their completed profiles from a central location.
Access profiles and features at anytime from any device.
Improve understanding of DiSC styles and the theory behind DiSC.
Compare individual profiles with an unlimited number of colleagues.
Create unlimited full group comparison reports at no charge.
Create Customer Interaction Maps to better understand customers and improve sales.
MyEverythingDiSC Videos
Orientation
3:33 - Short orientation on Everything DiSC and using MyEverythingDiSC.com.
How to Compare Your Style to Others
1:40 - Demonstration on comparing profiles to other people's profiles.
How It Works
Using MyEverythingDiSC is extremely easy. Simply:
Create your account at MyEverythingDiSC.com
Import your completed profile reports
Search for co-workers to run comparison reports against
Benefits
Organizations using Everything DiSC Profiles as part of their organizational culture employ MyEverythingDiSC to reinforce information learned about DiSC behavioral styles. Working together, Everything DiSC and MyEverythingDiSC help organizations:
Improve communication
Reduce conflict
Integrate DiSC in daily activities
Call 1-888-341-9438 in the U.S., 1-302-477-9730 outside U.S. or send an email through our contact form to request additional information on Everything DiSC or the MyEverythingDiSC application.
"DiSC" and "Everything DiSC" are registered trademarks of John Wiley & Sons, Inc.