Online Writing Course | Effective Business Writing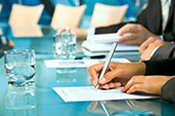 Writing effectively is critical in a professional setting. It can help you perform your job function efficiently and avoid audience confusion. Effective Business Writing will help you write clearly and effectively in all forms of business writing including memos, reports, brochures, proposals, presentations, catalogs, and websites. You will also learn formal and informal outlining techniques, revision techniques and how to use email appropriately in an organizational setting.
Effective Business Writing
:
$
99
Course Content
Why Effective Communication Matters
How We Communicate
Factors for Effective Business Communication
Ethical Communication
Communication Checklist
Writing and Communicating with Purpose
Understanding Your Audience
Developing a Clear Message
Formal and Informal Outlining Techniques
Brainstorming Techniques
Research Techniques
Overcoming Writer's Block
Writing Concisely
Writing Quickly
Simplified Structuring
Revising and Editing
Problems with Jargon
Communicating with Email
Volume Pricing
To enroll 10 or more employees in Effective Business Writing, or to integrate any of our business skills courses with your Learning Management System, submit your request using our contact form or call 1-888-658-6641 during our normal business hours 9:00 am - 5:30 pm EST, M - F. One of our representatives will gladly assist you.
After completing Effective Business Writing you should be able to:
Recognize the difference between effective and ineffective writing.
List and define the four major factors of effective writing.
Recognize the role of your audience and the importance of addressing their needs.
Employ formal and informal outlining techniques.
Practice techniques for overcoming writer's block.
Recognize the positive and negative effects of writing quickly.
Revise for wordiness, unnecessary phrases, redundancy, and jargon.
Write more effective emails and recognize the appropriate use of email in an organizational setting.
Employ checklists for organizing, writing, and revising.
This course is designed for adult learners with basic knowledge of writing and grammar interested in improving their business writing abilities.
Access Time: 90 days
Average Completion Time: 4-6 hours
Prerequisites: None
Format: Self-paced online course
Fee: $99.00
Course Credit: 5.0 PDUs | 0.5 CEUs
Online, self-paced course
Open enrollment 24/7/365
No prerequisites
Interactive review exercises
Professional videos with complete transcripts
Ask the Expert feature - Submit questions directly to our experts
PDU and/or CEU Certificate
Access Time: You will have full access to Effective Business Writing for 90 days. For additional access time, consider enrolling in our Certificate in Business Communications. Certificate Program students get access to Communicating Collaboratively, Effective Business Writing, Effective Emails, Memos, and Letters, Effective Presentations, and Effective Public Speaking for 365 days.
Completion Time: Completion time is dependent on several factors. The average completion time for this class is 4-6 hours. A student's prior knowledge, Internet connection speed, reading comprehension, optional exercises and videos all contribute to how quickly students complete our courses.
Certificate: An average test score of 70% is required to complete Effective Business Writing. Upon successful completion of this online course, you will be able to print your certificate including PDUs and/or CEUs instantly.
Access to an Internet connection
An updated Internet browser such as Chrome, Edge, Firefox, Safari
Web browser support for cookies (typically enabled by default)
Adobe Reader or Adobe Acrobat - Download Adobe Reader (free)
If you're unsure about any of these requirements or if you have questions please contact us through our contact form or by calling 1-888-658-6641 during our normal business hours 9:00 am - 5:30 pm EST, M - F. One of our representatives will gladly assist you.