When you work in the medical field, ongoing education is a must. It's important to stay up on the latest developments, and sometimes it's useful to take a refresher class just so your skillset doesn't get rusty. Healthcare professionals, we know the pandemic has amped up what is required of you. That's why we want to make it as easy as possible for you to take the classes you need. With that in mind, we're pleased to introduce our newest online course: Microbiology!
Our Microbiology course is self-paced, so you can access the material and do the work when you have pockets of free time. The course provides the information you need to understand medical microbiology and how it relates to medical practice.
Students read and do interactive, online exercises to learn the science of microbiology, practical applications, infection prevention, and microbiological diseases of major body systems. The Microbiology class offers practice quizzes, exercises, and interactive components, which students can do as they like to reinforce the concepts.
Topics covered include: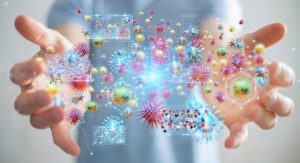 Background of Microbiology
Immunizations and Antimicrobials
Infection Prevention
Medical Microbiology
Medical Microbiology Specialties
Microbiological Diseases: Non-respiratory Infectious Diseases
Microbiology-Related Procedures
Protecting Patients and Ourselves
Respiratory-related Microbiological Diseases
The Microbiology training course is also useful to high school and college students taking high-level science classes. These days, high school and college are extra stressful, with students learning remotely, in-person with new procedures, or in a hybrid fashion. To alleviate some of the stress, students can take our course prior to taking their classes in school, where grades affect Advanced Placement credits and acceptance into undergraduate or graduate programs. They can access the Microbiology curriculum and become familiar with it at their own pace. When it's time for students to take their for-credit courses, they'll be familiar with the material!
No matter your reason for needing a Microbiology course, ours has several benefits. You can skip a pressurized, instructor-led pace and do the work when it fits into your own busy schedule. You have access to the course for a full year! In addition, when you successfully complete the class, you receive a certificate of completion for 3.8 Continuing Education Units (CEUs).
For more information about our Microbiology training class, or any of our courses or certificate programs, please call us at (302) 477-9730 or email learn@corexcel.com.