Are you bored of working from home? If you're like many people, you've been working from home for months. And you're over it. At first, it seemed like a novelty—a chance to skip the commute and work in comfy clothes while staying safe. As the weeks went on, however, you realized it can be tough to work with spouses, kids, and pets around, and it can get awfully boring looking at the same walls.
Fortunately, there are steps you can take to get out of your rut and combat the boredom you might be feeling at home: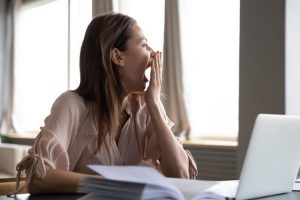 Plan a busy schedule. If you pack a lot into your workday, your mind will be focused on the tasks. Now is the time to add those often-put-off housekeeping projects, like cleaning out old emails, deleting files, and filing papers, in your schedule. Fill the gaps and avoid the lulls.
Schedule breaks. This means actually put time for breaks on your calendar. Step away from the desk. Get up and stretch. Talk to a family member in the house. Stay put and call a friend. Squeeze in a workout. The point is to use the time to focus on something other than work so you can come back to it fresh.
Change your location. If you usually work in a bedroom, try a day in the kitchen. Or the family room. Or the dining room. Just mix it up! When you feel boredom setting in, take a walk, even if it's just around the house. A change of scenery, even if brief, goes a long way.
Pursue training opportunities. You're not spending time going to and from work, so use the downtime to explore training your employer offers. If your employer will compensate you for taking outside classes, take advantage of that. Or, if you want to switch or advance your career, take one of our many online courses and professional certificate programs. All of these options will expand your skill set, bolster your resume, and alleviate boredom.
Set up a fun distraction. Listen to music while you work—rock, jazz, country—whatever lifts your mood. Have a favorite show playing off on the side, if it won't distract you from work. A little bit of fun can have a big, positive effect on your day.
Working from home might be a lasting trend. Once you learn how to keep boredom at bay, it might be a trend to embrace.
Email us at learn@corexcel.com to learn more.