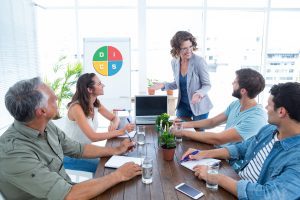 As an employer, you likely know about the power of DiSC profile tests for assessing your employees' personalities, learning about team dynamics, and taking action based on the results. Hosting a DiSC workshop is a fantastic way to educate your team on what DiSC offers and how to use it for your organization. To ensure a successful DiSC Assessment Training workshop, ask yourself these questions:
Who is your audience?
This affects not only who should participate, but also how the workshop should be structured. Are you looking to teach first-time managers? Employees who started in the last quarter? Senior management? An entire department? You'll want to adjust the workshop's content and approach accordingly.
What is your goal?
What do you want participants to know or do as a result of the DiSC workshop? For example, do you want to: pinpoint the cause of an ongoing problem, improve communication, reinforce sales skills, or boost customer service? This determines which DiSC assessment to use-and how to tailor your workshop.
What is your schedule?
Can you dedicate the three or four hours typical of a workshop that includes participant exercises? Would a 90-minute workshop on two different days work better? Or would incorporating DiSC training into an existing workshop be best? Your schedule affects the workshop's design.
What is your trainer preference?
Is someone on your staff willing and able to conduct the workshop? There are excellent facilitator kits to guide those who are comfortable in that role. If you would rather hire an experienced DiSC facilitator, we can point you to local experts.
Do you prefer an in-person or virtual workshop?
There are advantages to each. A virtual workshop lets you train employees across multiple locations. However, for some folks, nothing compares to an on-site facilitator interacting with your team.
Whether you're using DiSC to resolve issues with individuals, improve your workplace culture, or enhance any other aspect of your organization, you should host a DiSC Training workshop to properly educate your team. Prepare yourself with these questions ahead of time, and you'll be off and running.