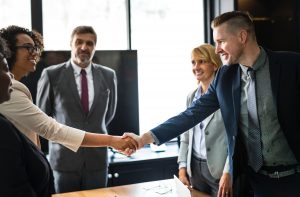 When your organization has a job opening, you want to hire the right person. You also want the hiring process to be as smooth as possible. Whether you're filling a new position or replacing an employee, follow these steps:
1. Update the job description or create a new one.
Clearly state the education, experience, and skills that you seek. Include the job's compensation.
2. Publicize the job
Post the job opening on LinkedIn, Indeed, or other job boards. Also, post it on your internal job board, so that your current employees have an opportunity for career growth. Spread the word through your network of contacts as well.
3. Screen and narrow your pool of candidates
Review the applications/resumes for experience, education, and work history. Does the candidate's experience match what you're seeking? Are there unexplained gaps in job history? Has the candidate jumped from job to job? The answers help narrow down the pool to those most qualified.
4. Conduct phone interviews
Phone interviews help you gauge each candidate's energy. If you're filling a customer-facing job, assess the candidate's speaking ability. If you're hiring for a solitary job, the individual's enunciation on the phone is less important.
5. Use a hiring assessment tool
Now that you've spoken with a candidate, you'll want to "look under the hood." We recommend using PXT Select™, an online tool that measures behavioral and thinking styles, interests, verbal and numeric skills, and even assertiveness. Importantly, it helps set apart candidates who otherwise seem equal. With PXT Select, you can compare an individual's results with the job's performance model—and with other candidates' results. This adds a layer of objectivity to the hiring process.
6.Conduct in-person interviews
Interview your final, select group of candidates. PXT Select provides personalized interview questions designed to clarify discrepancies identified in the assessment.
Now you have the information you need to select the best candidate. Once your offer has been accepted, you can use PXT Select's onboarding tips. Happy hiring!