Unit III: Patient Education
Assessment of the Emotional State of the Patient
A thorough assessment of the individual -- the physical and emotional state of the person, including available support systems and current understanding of diabetes, is the necessary first step in developing a treatment plan. In no health care situation is the need to involve the patient in plans more vital to success than in the case when the individual has diabetes. It should not be assumed that the newly diagnosed diabetic wants to learn. The individual may, in fact, have many feelings which must first be addressed before readiness to learn occurs. Consequently, readiness to learn is the first assessment that should be made.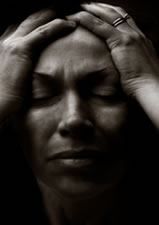 The individual with diabetes might first need assistance in dealing with feelings of shock, disbelief, denial, anger, sadness, grief, fear and/or anxiety, as might the individual's significant others. Acknowledging these feelings (and a myriad of others related to loss of one's sense of health and peace of mind, not to speak of perceptions of what it means to the individual to have diabetes) does a great deal to establish the health care provider as a sensitive, caring individual who is interested more in the patient's experience than in imparting information.
Attention must be given as well to the individual's significant others. In order to develop a workable diabetes management plan, all parties must be considered. Of special importance is the need for all individuals to vent feelings related to having diabetes, or to having a person with diabetes in the family (Handron & Leggett-Frazier, 1994).
The concept of compliance requires careful consideration when one plans for the patient's role in diabetes care. Does compliance to you mean that you set up the program and the patient is expected to follow it? If so, please recognize that the healthcare provider's role is to inform the patient about the requirements for control of diabetes when the patient is ready to learn. Only then can the patient learn! Healthcare providers are often overwhelmed with what appears to be the patient's purposeful non-compliance with what the provider taught, when in fact, the patient simply does not understand. Once learning has been confirmed, the patient and the healthcare provider can work out a plan that is more likely to produce the desired results.
The main caregiver in diabetes care is generally the person with diabetes. But, when the patient is a child, both parents are the main caregivers. It is important for both parties to understand and be knowledgeable about care requirements in diabetes. Again, prior to teaching the parents, the nurse must consider the emotional reactions the parents might have in response to the news that their child has diabetes. (Imagine for a moment how you might feel if you learned your child had diabetes.)
Some parents feel responsible for the fact that the child has diabetes. The resultant feelings of guilt create additional stress. Parents sometimes blame one another thus undermining the support they might gain from their own relationship. The knowledgeable nurse will assess the parents individually and as a unit for their feelings about the situation and their manner of coping. Appropriate interventions are necessary before proceeding. An empathetic approach coupled with the provision of facts about diabetes may help the parents to more effectively deal with their reactions. See the list of resources at the end of the self-study. Encourage the patient and the patient's significant others to get involved in the local diabetes association and/or to subscribe to lay and professional journals which are available.
In discussions about diabetes and any aspects of care, the child should be included. Whenever possible, explanations should be provided in terms the child can understand. It is important that the child be as involved as much as possible to establish early on that responsibility will ultimately be the child's, alone.
Learner Activity
Read the article by Armstrong (1987) or talk with a friend or patient about his or her initial feelings when told of the diagnosis of diabetes. What were his/her main fears and how did he/she cope? In what ways were the individual's health care providers most helpful? Least helpful? What do you think your feelings would be if you knew you would have to change your eating habits, take medication for the rest of your life, exercise regularly (not just now and then or after New Year's resolutions!), monitor your blood, urine, and weight, and be prepared for emergencies at all times! At first, how interested in learning might you be? Do you think you might be a little angry and afraid? How might you react? How might you deal with it? Describe the nurse's approach that would be most helpful in light of your anticipated needs.
Readiness to Learn
Prior to beginning any teaching program, readiness to learn must be assessed. This is so important that it deserves repeating, so please read and understand the previous sentence again. Opportunities for free expression of feelings and questions should be provided. The benefits of a therapeutic relationship between patient and nurse and clear communication between and among the nurse, the primary care provider, and dietitian are essential.
Current Concepts of Diabetes Control
Current trends in diabetes management revolve around control of blood glucose levels to levels as close to normal as possible; i.e., striving to keep the blood glucose within a narrow range similar to non-diabetic levels. Data that were collected from individuals with DMT1 over a 7 1/2 year period and were reported in the Diabetes Control and Complications Trial (DCCT) (Reichard, Nilsson, & Rosenqvist, 1993) revealed that "long-term intensified insulin treatment, as compared with standard treatment, retards the development of microvascular complications in patients with insulin-dependent diabetes mellitus (p. 304)."
Analyses of the results of the DCCT provided long sought-after relationships between blood glucose control and its effect on major complications of diabetes. It was found that keeping blood glucose within target ranges (called tight control) reduced kidney disease by as much as 56%, nerve damage by as much as 60%, eye disease by as much as 76%, and heart attack by as much as 16% in individuals with DMT1 (Reichard, Nilsson, & Rosenqvist, 1993).
While risk of severe hypoglycemia was associated with the tight control that was the focus of the DCCT, the application of study findings to practice was to provide rationale for clinicians to help patients to become motivated to achieve blood glucose levels as close to normal as possible. See also the report in the 1996 Journal of the American Medical Association, Volume 276, Issue #17, pp. 1409-1415, "Lifetime benefits & costs of intensive therapy as practiced in The Diabetes Control and Complications Trial" written by the DCCT research group. (Note: For a complete listing of all the members of the research group, see "The effect of intensive diabetes treatment on the progression of diabetic retinopathy in insulin-dependent diabetes mellitus. The Diabetes Control and Complications Trial." Archives of Ophthalmology, 1995, Volume 113, pp. 36-51).
After the publication of the findings from the DCCT, legitimate questions were raised about their application to individuals with DMT2 (note that the subjects in the DCCT were only those with DMT1). Fortunately, in 1977, a similar study had been launched in the United Kingdom, but with subjects who had DMT2. In 1998, the results of the United Kingdom Prospective Diabetes Study (UKPDS) were published, demonstrating similar results as those from the DCCT (United Kingdom Prospective Study Group, 1998), only this time, the results pertained specifically to those with DMT2! The research reported about the UKPSD became the seminal research report relative to the role of BG control in those with DMT2 (since the DCCT findings could be generalized, legitimately, only to those with DMT1). Recommended parameters for glucose control for adults with diabetes have been (and continue to be) published annually by the American Diabetes Association.
Glycemic Goals for Many Non-Pregnant Adults with Diabetes*

Pre-meal glucose
Postprandial** glucose
A1c

80-130 mg/dL
< 180 mg/dL
< 7%

*Less stringent goals for A1c (e.g. < 8%) may be set for children, the elderly, those with a history of severe hypoglycemia, advanced vascular complications

**1-2 hours after the beginning of a meal

(American Diabetes Association, 2018, p. S60)
Likewise, recommended parameters for glucose control for children with DMT1 are published annually by the American Diabetes Association. The most current can be found at the American Diabetes Association website: https://professional.diabetes.org/content-page/standards-medical-care-diabetes.
ADA Recommended Goals for Blood Glucose (mg/dL) and A1C for Type 1 Diabetes

Values by Age
(Years)

Before Meals

Bedtime/
Overnight

A1C

Rationale

Toddlers and preschoolers (0-6)

100-180

110-200

< 8.5%

Vulnerability to hypoglycemia

School age (6-12)

90-180

100-180

< 8.0%

Vulnerability to hypoglycemia

Adolescents and young adults (13-19)

90-130

90-150

< 7.5%

A lower goal (< 7.0%) is reasonable if it can be achieved without excessive hypoglycemia
Key Concepts in Setting Glycemic Goals
Goals should be individualized and lower goals may be reasonable based on benefit-risk assessment.
Blood glucose goals should be modified [higher] than those listed above in children with frequent hypoglycemia or hypoglycemia unawareness.
Postprandial blood glucose values should be measured when there is a discrepancy between pre-prandial blood glucose values and A1C levels and to help assess glycemia in those on basal/bolus regimens.
(American Diabetes Association, 2014, p. S51)
Managing Diabetes During Pregnancy
This topic is listed under Patient Education because it is imperative to educate diabetic women of child-bearing age to attempt to maintain normal blood glucose levels if they are planning to become pregnant. Another recommendation for women who have diabetes before they become pregnant is to take a daily multiple vitamin that includes 400 micrograms of folic acid. (The latter recommendation is for all women of child-bearing age who plan to have children – those who have diabetes and those who do not.)
Any woman with diabetes who is not planning to become pregnant but is sexually active should be reminded to use an effective form of contraception. As soon as pregnancy is confirmed, the expectant woman should seek the guidance of an obstetrician who specializes in pregnancy in diabetes.
The Joslin Diabetes Center has additional information on this topic at:

http://www.joslin.org/managing_your_diabetes_3978.asp