Developing Male-Friendly Nursing Environments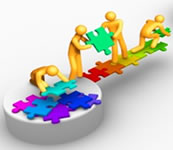 The concepts discussed up to this point set the foundation for understanding the strategies for recruiting, training, and retaining men in the nursing profession. Even though they may very well receive it, there is ample evidence to demonstrate that men are not asking for special or preferential treatment. They want to be treated as equally capable of being an excellent nurse and to compete on equal ground for positions and promotions. Below, each of the three areas are divided down and discussed based on the research. Although there are no fool-proof strategies, these have been found successful and are based on sound research findings. Practicing them will likely provide more men in nursing and will certainly provide a more congenial and positive work environment for men.
Strategies for Recruiting Men into Nursing
Bernard Hodes Group (2005) reported that the key challenges to recruiting and retaining men in nursing were identified as the stereotyping issues and the cultural adaptation required for entry into a traditionally female profession. In the latter case, lack of male role models and appropriate career preparation for males are also seen as impediments. Male nurses surveyed indicated they were influenced by several misconceptions, such as the nursing profession being dominated by females and not appropriate for men. Campaigns and strategies for recruiting men into nursing have attempted to alter the image of nursing by having male nurses in television and web-based commercials (Meadus and Twomey, 2007). The "are you man enough to be a nurse" campaign utilizes posters and other media showing tough-looking men who fit the stereotypical jock image.
The American Assembly for Men in Nursing (AAMN) has initiated a recruitment strategy designed to de-genderify nursing and encourage men to enter the profession. The goal is to increase the percentage from the current 10% to 20% male enrollment in nursing programs throughout the United States and the world by the year 2020! They created the slogan "20 By 20" to help remember the goal. They encourage men to be "man enough" to be a nurse – a strategy that dates back to the Oregon Center for Nursing (OCN) in 2002.
The approach focuses on an advertising campaign to showcase a variety of male nurses that epitomize the male gender – mountain climbers, bike riders, marathon runners, and a baseball coach. They will also use social media to gather more remarkable stories about men in nursing and then distribute the new images through partnerships with leaders in academia, industry, and the corporate domains.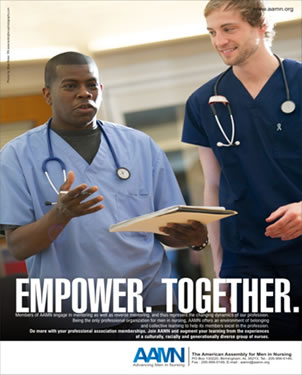 AAMN ad downloaded at http://aamn.org/aamn-ads.shtml.
It is important to note that not all leaders in nursing believe the goal of doubling the percentage of men in the nursing profession is realistic. In an editorial published in the Journal of Theory Construction and Testing, Walker (2011) referred to the goal as a ridiculous and preposterous proposition akin to the military's verbiage "Shock and Awe." His primary premise is that men choose not to enter nursing for a number of reasons, with some having to do with gender stereotypes that cannot be impacted by a media campaign. Nevertheless, the campaign is supported by the leadership of the Assembly of Men in Nursing and is well underway. History will reveal the campaign's level of efficacy.
Begin the Recruitment Process as Early as Elemntary School
Opinion among respondents was mixed as to whether elementary school was too early to begin career messaging. In general, most RNs felt that keeping to a simple presentation (career day, show and tell, questions and answers, or video format) and using high-tech props or military/scrubs attire would be most effective. Almost all emphasized the need to counter prevalent gender stereotypes in the profession as part of the communication.
Methods of Recruiting Middle School Students
The male nurses in the Bernard Hodes Group (2005) study continued to stress the use of appropriate role models and non-stereotyping imagery to convey the attractiveness of a nursing career. Many felt that field trips might be incorporated into the presentation at this age, perhaps including hands-on events (blood pressure, heart sounds, etc.) or shadow programs. A number of respondents felt that more directed information about career opportunities and salary might be mentioned at this stage through personalized, one-on-one communications.
Taking the Recruitment Message to High School Students
High School Counselors are noted to not suggest nursing as a viable career option to male students (LaRocco, 2007). Perhaps this is one reason why men tend to enter nursing as a second or even third career. Bernard Hodes Group (2005) noted that at the high-school stage, students would be ready for and more receptive to receive detailed information about such topics as nursing schools, admissions requirements, internships, scholarships and mentoring programs. This would be in addition to the continuing emphasis on career opportunities and the inclusive, anti-stereotyping communications presented both within schools and on-site in health care facilities.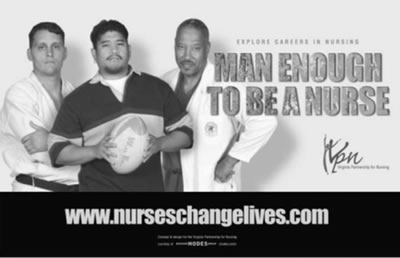 Recruitment Poster 1. Included in the Bernard Hodes Group Report (2005).
Key talking points that respondents offered for student messaging included:
Inclusive, non-gender specific message
Stable employment opportunities
Multiple areas of practice
Highly skilled profession
Autonomy of the profession
Action/military images
Diversity among nurses
Nurse as hero
No actors (false image)
Teamwork
High-tech
No stereotypes relating to gender (homosexuality, effeminacy or machismo)
Avoid any images of nurses as glorified maids, orderlies, or subservient to physicians
Portray men in white uniforms in an unidentified clinical setting
The Bernard Hodes Group (2005) reported that only four percent of respondents belong to organizations or associations that are specific to male nursing. The key organization mentioned by respondents is the American Assembly for Men in Nursing. Table 1 provides a condensed list of ideas for recruiting men into the field of nursing.
Table 1. Ideas for Recruiting Men into Nursing
Have average, men-next-door type nurses be the primary recruiters of men.
Avoid the extremes (overly masculine or overly feminine).
Address and consciously update the images of men in nursing.
Avoid the stereotype that all male nurses are gay.
Educate parents, teachers, and guidance counselors on the modern nursing profession.
Begin the pre-recruitment when males are still in middle or high school.
Focus upon pay, specialty/geographic options, advancement and the security of nursing.
Stress that empathy, compassion and caring can be conveyed in a masculine style.
Stress high-tech trauma care as an option (not just bedside patient care).
Focus on the rewards of helping others and making a difference.
Develop brochures, flyers, marketing supplies for men to provide to potential male nurses.
Focus on the long history of men in nursing (military and civilian).
Present nursing as a career option to groups catering to young males (sports, Boy Scouts, etc.).
Stress that men have an important role to play in the diverse profession of nursing.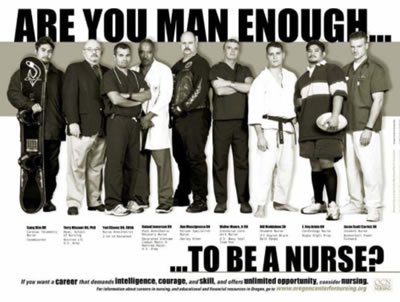 Recruitment Poster 2. Included in the Bernard Hodes Group Report (2005).