I'm Worried about Faxes and Computerized Records: What Do I Need to Know about Them?
Email and fax are great methods for expediting the transmission of written documents. However, according to the American Health Information Management Association (a division of the American Hospital Association), there are certain safeguards that you should take to protect the confidentiality of your clients when transmitting records using these methods.
Safeguards for Faxing
Before faxing, call the intended recipient to say that it's coming.
Ask the recipient to send a return fax verifying receipt of the information.
On the fax cover sheet, clearly note that the accompanying material is confidential.
If you don't receive verification of receipt, check your fax machine's internal log to determine where the fax was sent.
If it went to the wrong number, send another fax to that number asking the recipient to destroy the material.
A quick, three (3) check system for faxing (somewhat like the system used for giving medications) is a handy reminder to use when faxing. It goes like this:
1. Check the number before you dial.

2. Check the number on the fax machine display.

3. Re-check the number before you press the "send" button.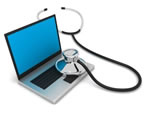 Are you doing some of your documentation on a computer? I'm sure your answer is a yes. Using a computer to record information in the medical records allows easier communication of that information and also eliminates the problems associated with handwriting that is hard to read. Remember that your computerized documentation is as legal as when you manually chart in the medical record. Therefore, you need to be just as careful in following all of the policy and procedures related to computer charting as when you manually chart. Reducing your legal risk and providing secure computer records is easier if you use the following guidelines (NSO, 2020).
Computer Charting Guidelines
Double-check the information that you enter.
Indicate whether a physician's order is written or verbal, (whether it was given in person or by phone) and when you made the computer entry.
Never tell anyone your password. Change it often in case someone should guess it and try to use it later (most facilities automatically change it every 45 – 90 days).
Tell your immediate supervisor if someone is using your code.
Don't leave client information displayed on the computer screen.
Log off the computer when you're not using it.
Retrieve any printouts immediately.
Follow your facility's policies and procedures for computer entries and error corrections.
Ensure that appropriate backup files are kept.
Know your state's rules and regulations and your facility's policies and procedures for patient data, confidentiality, and disclosure.
If you are using a laptop to document at work and you are allowed to take it home with you, do not be tempted to let members of the family use it for personal reasons.
Once notes are entered into the computer, they become a permanent part of the medical record and shouldn't be deleted or edited at a later time without an explanation that's documented, signed and dated.
As we leave the topic of computers, it bears repeating that as with any other form of documentation, good computerized documentation not only can help you in court, but it can also keep you out of court in the first place.