Preventing Medication Errors

2.0 Contact Hours

Written by: Wilma B. Yu, MS, RN, CEN
To successfully complete this course and receive your certificate, you must read the content online or in the downloadable PDF, pass the post test with a 70% or better, and complete the evaluation form by May 22, 2021.
You will only be asked to pay for the course if you decide to grade the post examination to earn a certificate with contact hours.
Corexcel is accredited as a provider of continuing nursing education by the American Nurses Credentialing Center's Commission on Accreditation (ANCC).
This activity was developed by Corexcel without support from any commercial interest.
It is Corexcel's policy to ensure fair balance, independence, objectivity, and scientific rigor in all programming. In compliance with the American Nurses Credentialing Center (ANCC) we require that faculty disclose all financial relationships with commercial interests over the past 12 months.
No planning committee member has indicated a relevant financial relationship with a commercial interest involved with the content contained in this course.
Corexcel's provider status through ANCC is limited to educational activities. Neither Corexcel nor the ANCC endorse commercial products.
This course is Florida Board approved to meet the two hour requirement relating to prevention of medical errors.
Learning Objectives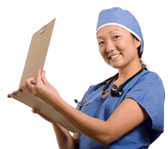 After completing this course, participants should be able to:
Identify causes of medication errors.
Describe ways to prevent common medication errors.
Explain ways patients can help protect themselves from medication errors.
Introduction
Estimates show hospital patients are subjected to an average of one medication error daily (Committee on Identifying and Preventing Medication Errors Board on Health Care Services, 2007). It is estimated that 380,000 to 450,000 injuries due to medication errors occur in hospitals each year. As many as 800,000 preventable adverse reactions due to medication errors occur in long-term care facilities.
Medication errors take a toll on everyone. This course will look at the problem of medication errors and methods for preventing medical errors. After completing the course, participants should understand the scope of the issue and comprehend strategies for error reduction that can be implemented in a variety of health care settings.