Clinical Diagnosis: Probable or Possible
There are three core features and three suggestive features of Lewy Body Dementia. These features are use when determining if the clinical diagnosis of LBD is probable or possible.
A probable LBD diagnosis is determined if one of the following conditions is met:
Dementia plus two or more core features
Dementia plus one core feature and one or more suggestive features
A possible LBD diagnosis is determined if one of the following conditions is met:
Dementia and one core feature
Dementia and one or more suggestive features
Three Core Features of Lewy Body Dementia
Fluctuating cognition with pronounced variation in attention and alertness
Recurrent visual hallucinations (typically well-formed and detailed)
Spontaneous features of Parkinsonism
Three Suggestive Features of Lewy Body Dementia
REM sleep behavior disorder
Severe neuroleptic sensitivity
Low dopamine transporter uptake in the basal ganglia demonstrated by SPECT or PET imaging
Why Is Lewy Body Dementia So Important?
Frequently misdiagnosed as Alzheimer's or Parkinson's disease or a psychiatric disorder, Lewy body dementia poses a diagnostic challenge. LBD's symptoms often overlap with these diseases. LBD victims are losing cognitive ground. They seem to be less prone to the short-term memory loss associated with Alzheimer's than to problems with executive function. They struggle to handle complex tasks like grocery shopping. They also may develop visuospatial problems and find it hard to navigate or perceive distances, so that they lose their way in familiar settings or misjudge distances and fall. Lewy body dementia seems to progress more rapidly than Alzheimer's; most LBD patients don't live as long. Certain antipsychotics and stimulants, and some Parkinson's and Alzheimer's medications, may make life easier for patients and their caregivers for a while.
According to Dr. James Galvin, a neurologist who specializes in LBD at NYU Langone Medical Center, "There's no way to repair the damage that's been done" to the brain. "All you're doing is slowing down the symptoms' progression without changing the underlying disease."
Symptoms
Some of the most common symptoms include decreased alertness and attention. Other symptoms may include:
Frequent drowsiness
Lethargy
Lengthy periods of time spent staring into space
Disrupted speech patterns
Recurrent visual hallucinations
Depression
Another common symptom is orthostatic hypotension or low blood pressure. This can cause dizziness and fainting. If there are indications and signs of stroke or vascular dementia, the diagnosis would then usually rule out the likelihood of LBD.
Behaviors Presented by LBD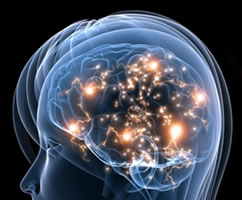 Dementia: Confusion, loss of memory, and poor judgment.
Hallucinations: Hallucinations may be auditory (hearing sounds), olfactory (smelling or tasting something) or tactile (feeling or touching something that is not there).
Cognitive Fluctuations: The patient may converse normally one day and be mute and unable to speak the next day. There are also fluctuations in attention, alertness and wakefulness.
Parkinson's-Like Symptoms: Rigidity or stiffness, shuffling gait, tremor, slowness of movement (Bradykinesia), mask-like facial expression.
Rapid Eye Movement (REM) Sleep Behavior Disorder: Vivid dreaming, talking in one's sleep, and excessive movement while asleep; may include hitting a bed partner. Because of the sleep disturbances, excessive daytime drowsiness may appear years before DLB is diagnosed. About 50% of patients have this symptom.
Complex Mental Activities: More problems with multitasking, problem solving, and analytical thinking, than with memory.