What Keeps a Customer for Life?
Now that we know what not to do with your customers, let's focus in on what will have the greatest impact. What can you do that will really be important to customers? In a nutshell, it is called value-added service (Reilly, p. 57). This is service that concentrates on demonstrating desirable attitudes and behaviors when you are dealing with your customers. Most of what I am going to tell you is easy to do. Everyone in your organization can and should do these if you are at all serious about delivering outstanding customer service.
First, you need to know your organization's values for doing business. Most organizations are known by these values and they guide the manner in which the work in your organization is done. I am talking about values like: integrity, service to others, compassion and respect for the customer, etc. These values are usually customer focused, framed and hung in a highly visible location such as in a lobby where your customers can easily see them. Are you familiar with your organization's values? You should be because those values are the guidelines for how you treat your customers.
Second, develop an attitude of gratitude. This simply means having a passion for your customers, believing that they are truly assets to your organization. When you really put your customers first, you will automatically think and behave accordingly. You will actually begin to find ways to demonstrate to your customers how important they are to you and your organization.
Third, be proactive by anticipating and resolving your customer's issues before they become real problems. This means never having to say you are sorry to your customers. To do that you will need to take the initiative to anticipate issues and take action to intervene before they occur.
Fourth, treat your customers, as they would like to be treated. Remember it's the customer's perception that counts, not yours. So…find out how your customer wants to be treated. Once you know what your customer's want, your focus should then be to deliver that kind of service if at all possible.
Consider the following saying: Good Service Only Becomes Great Service When the Customer Says It's Great! Do you know if your customers think you deliver great service? You can easily find out. Ask them!
Fifth, deal with customer issues on the spot! If you don't feel you have the authority to do so, then you need to talk to your supervisor about getting that authority. Nothing irritates a customer more than having to wait to speak to a manager or a supervisor to get their problem resolved. If you feel you can't do anything for your customer, you will add your frustration to the situation, which will only make it worse.
I suggest that you take a risk and do as much as you can for your customer. It's called do it now and get permission later. I feel confident that your boss will understand as your actions are all sincerely done in the name of great customer service, right?
Last, promise a lot and deliver more. This means that you should always try to exceed your customers' expectations. To exceed your customers' expectations, you have to go the extra mile with them. Going the extra mile means putting forth a lot of effort; it means going out of your way to satisfy your customers with every encounter you have with them. It's paying attention to details and giving them extra attention.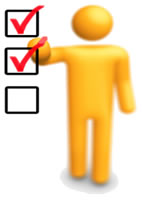 The rewards for all of your hard work will be a very happy customer who will undoubtedly return to your organization again and again.
Without question, consistent performance is what customers want most. More than anything else, the customer wants service that he can depend on. More specifically this means:
Do what you say you are going to do.
Do it when you say you are going to do it.
Do it right the first time.
Get it done on time.
One of the easiest ways to incorporate all of the points included in value-added service is to create a Customer Bill of Rights, which can be highlighted in your organization by publishing it on business cards, on handouts, on posters, etc. to be hung on the walls of your organization. You will need to word them so they are customer focused such as: We deal with your problems and concerns immediately. You may want to add others based on the uniqueness of your organization.
If you are having trouble developing a Customer Bill of Rights you might want to consider what authors Zemke and Anderson (p. 8) state are the five rating factors used by customers to rate service quality:
1. Reliability: the ability to provide what was promised, dependably and accurately. Example: When you meet a customer's request on time, you demonstrate reliability.

2. Assurance: the knowledge and courtesy you show to customers, and your ability to convey trust, competence, and confidence.

3. Tangibles: the physical facilities and equipment, and your own and others' appearance. Example: when you take the time to make yourself and your work area presentable, you are paying attention to tangibles.

4. Empathy: the degree of caring and individual attention you show customers.

5. Responsiveness: the willingness to help customers promptly.
Most of what you do for your customers probably fall into one of the above categories. Perhaps you can turn these five factors into a set of rights for your customers. What a nice way to show them how much you value them!