What's All the Hoopla about Customer Service?
Now that you are aware of the importance of customer service and you recognize the value of satisfying the customer, then why all the heightened emphasis on customer service these days? Well, it's because employment trends have shifted to the point where most businesses are service oriented more than production or practice oriented. It's true! Providing service to others has become a major focus. What a paradigm shift! Instead of merely focusing on producing goods, we are now focusing much more on how we provide them to the customer. Remember, there is competition out there! The customer can go just about anywhere to get the same or similar product or service. So why should he come to you or your organization for what he needs? When he does come, are you aware of why and do you make efforts to ensure that he comes again and again?
A typical organization hears from only 4 percent of its dissatisfied customers. The other 96 percent just quietly go away and 91 percent will never come back. That represents a serious financial loss for organizations whose employees don't really know how to treat customers, and a tremendous gain for those who do. (LeBoeuf, p. xv)
Reilly (p.52) has developed a simple quiz that any organization can use to determine the level of service it is offering. I believe it is also a helpful quiz for any individual to use to evaluate his level of customer service focus. Take a minute to circle yes or no to each of the following questions to the best of your ability.
How Do You Think Your Organization is Doing?

Yes

No

1. Do you view customer's questions and visits as interruptions?

Yes

No

2. Are you difficult for customers to contact?

Yes

No

3. Do you routinely ask customers, "How am I (or how are we) doing?"

Yes

No

4. Do your employees, co-workers, and managers like customers?

Yes

No

5. Do you feel it is too expensive to give customer service?

Yes

No

6. Do you thank every customer for his or her business?

Yes

No

7. Have you ever thought, "We're the only game in town. We don't need to worry about customer service?"

Yes

No

8. Is it important to serve customers in good times as well as bad times in your organization?

Yes

No

9. Would you or your employer open your closed place of business to help one of your customers?

Yes

No

10. Do you get all of the repeat business that you should?

Yes

No

11. Have you ever thought, "If they would just leave me alone, I could get my job done?"

Yes

No

12. Is customer satisfaction a guiding principle for you? For your organization?
The purpose of this quiz is to heighten your awareness to those items, which you circled as no. They represent areas where you and your organization could improve existing customer service. It does mean focusing most of your attention on your customer and what he or she likes or wants. It means practicing the rules of customer service. Below are examples of such rules (Reilly, p.13).
The Nine Rules of Customer Service
1. Every employee is a salesperson… everyone in any organization sells something to someone.

2. Not everybody believes #1… Do you feel negatively about salespeople? Do words like pushy, sleazy, manipulative and liar come to mind?

3. Not everyone behaves according to #1… If you don't believe you are a salesperson, you'll feel no need to behave like a salesperson. You'll do your job and the heck with the customer or you'll do just enough to keep the customer off your back?

4. Every employee has a customer…even if you never have contact with those whom you traditionally think of as customers, you still have customers…they are the people with whom you work on a day-to-day basis…those you serve in some work-related way. And…they deserve good customer service also.

5. Adding value to customer service is not a spectator sport…everyone in your organization should be actively and enthusiastically involved in giving positive customer service. No one can afford to sit back and adopt the attitude of "that's not part of my job" or "I'll let someone else do it…I have better things to do with my time."

6. Security and future in an organization are directly related to how much value an employee adds, not costs…ask yourself if you helping or hurting your organization with your daily actions.

7. "We" is greater than "me"…everyone in your organization should be moving toward a common goal of directly serving external customers (those you sell to) or indirectly serving internal (those you work with each day) customers.

8. Value is personal, perceptual, and performance-driven… it is personal meaning that your customer defines what the value of your service is, not you; it is perceptual meaning that your customers define the value of your service based on what they perceive and much of what they perceive is based on your attitude and performance while you are serving them; it is performance-driven meaning that they define the value of your service on the impact that it has on their life, their job or their organization.

9. Everyone must belong to something… this is true of your customers and your co-workers. So…do you make them feel like they are a part of your organization or your work group? Believe me…if you don't make them feel like they belong, some other organization out there would love to take them in and make them feel welcome and important. It makes sense then to figuratively "hug" all of your customers (external and internal) doesn't it? In other words, make all of your customers feel like they are family.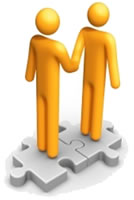 Practicing the rules of customer service can help to retain those customers who already come to you for services. Paying attention to your customers can have big payoffs in guaranteed business from them for life and positive word of mouth advertising for your organization that costs nothing but can generate even more devoted customers over time. It seems like a worthwhile investment to focus on your customers.
In your day-to-day work, what standards are you setting? What makes your customers talk about you? A survey on "Why Customers Quit" ( LeBoeuf, p. xv) found the following:
3 percent move away
5 percent develop other organizational relationships
9 percent leave for competitive reasons
14 percent are dissatisfied with the quality of the service they received
68 percent quit because of an attitude of indifference toward the customer by those working within the organization