Many of Corexcel's online courses require cookies to be enabled. They are used primarily to improve performance and functionality within our courses. This post contains directions for enabling cookies on desktop and laptop computers. If you plan to take a course using a tablet or mobile device, see our post on enabling cookies on mobile devices.
Follow the instructions for the browser you intend on using for the course.
Google Chrome
Click the menu button (3 vertical dots in the right corner of the browser)
Go to Settings
Scroll to the bottom of the page and click the word Advanced (additional settings should display)
Scroll down and click Content Settings
Click Cookies
Make sure Allow sites to save and read cookie data is enabled

Firefox
Click the "hamburger" menu in the upper right corner of the browser (3 vertical lines on top of each other)
Choose Options from the menu
Select Privacy & Security
Under the Cookies and Site Data heading make sure Accept cookies and site data from websites is selected

Internet Explorer
On the Tools menu choose Internet Options
Click the Privacy tab
Under the Settings heading click the Advanced button
You may have to check the Override automatic cookie handling box, if your version of Internet Explorer has that option. (not depicted below)

Make sure Accept is selected under First-party Cookies and Third-party Cookies

Click OK and then OK again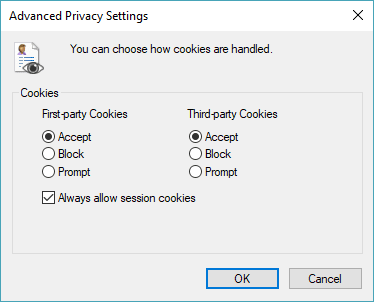 Safari
Click the Settings button in the upper-right corner of the browser (gear icon with an arrow to the right of the image)
Choose Preferences
Click the Privacy icon
Under Block cookies make sure Never is selected
Close the window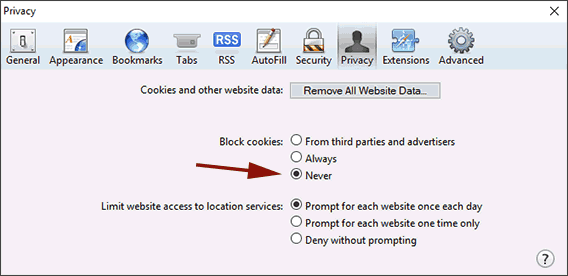 If you are having trouble please do not hesitate to contact us by phone or by email using our contact form. We are happy to help. Normal business hours are Monday through Friday, 9:00 a.m. – 5:30 p.m. EST.