Many of our online courses such as Medical Terminology, Anatomy & Physiology and Medical Coding require JavaScript to be enabled to access all of the intended functionality. The instructions below describe how to enable JavaScript in a variety of web browsers.
Enable JavaScript – Google Chrome
Click the Menu in the upper-right corner (3 vertical dots) and choose Settings
Towards the bottom of the page click the word Advanced to expand the settings list
At the bottom of the Privacy & Security section click on Content Settings
Click the section titled JavaScript
If it says Blocked move the slider on the right so that it says Allowed (recommended)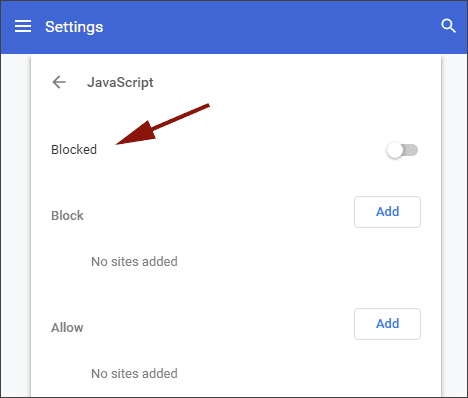 Enable JavaScript – Mozilla Firefox
Starting with Firefox 23 the option to disable JavaScript was moved from the Options window. Follow the instructions below to enable JavaScript.
In the address bar type about:config and hit Enter
If a screen that says something like This might void your warranty displays, click the I accept the risk! button
In the search bar type javascript.enabled
If it has a value of True, you don't have to do anything
If it has a value of False, double click anywhere in the highlighted section to change the value to True
Close the about:config window as JavaScript is now enabled for Firefox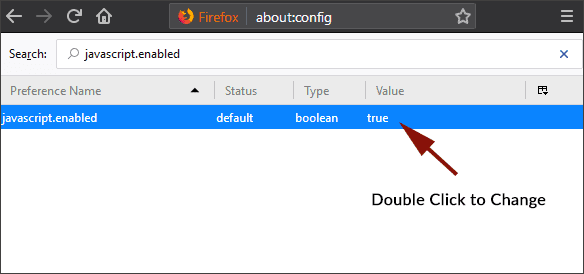 Enable JavaScript – Internet Explorer
Open the Tools menu (in IE version 9+ the tools menu is a gear icon in the upper-right corner of the browser)
Select Internet Options
Go to the Security tab and click the Custom Level button
Scroll down the list to find the Active Scripting heading (directly under the Scripting heading)
Make sure Enable is selected
Click the OK button to close that window
Towards the bottom of the Security Settings window, click the Apply button
Close the Internet Options window by clicking the OK button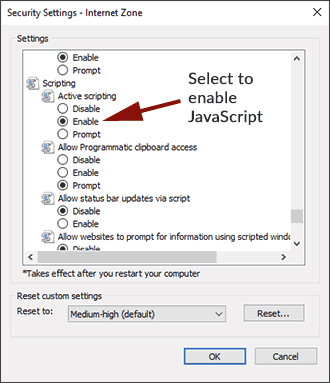 Enable JavaScript – Microsoft Edge
At the time of writing, Microsoft Edge does not allow users to enable or disable JavaScript. While JavaScript is enabled by default, we recommend that users who wish to use a Microsoft browser, use Internet Explorer. Directions for enabling JavaScript in Internet Explorer can be found above.
Enable JavaScript – Apple Safari
On a Windows computer, press [CTRL] and [,] at the same time to open Preferences
On a Mac computer, press [Command] and [,] at the same time to open Preferences
Click the Security tab
Under Web content make sure Enable JavaScript is checked (Java and JavaScript are not the same)
Close the Preferences window because you are finished!

Enable JavaScript – Safari on iOS (iPad, iPhone)
Open Settings
Scroll down the list and choose Safari
Towards the bottom of the Safari settings select Advanced
Make sure JavaScript is turned on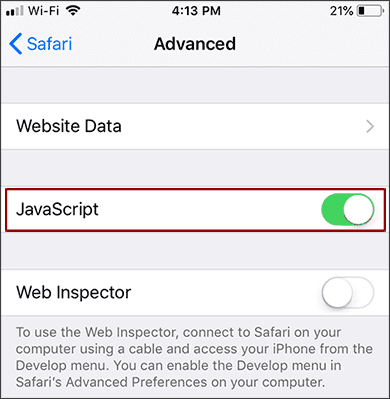 Enable JavaScript – Android
These steps are for Microsoft Edge for Android; they may vary slightly if you have a different browser installed.
Open the Edge app
Tap the three dots in the lower right corner
Go to Settings
Go to Site Permissions
Go to JavaScript
Ensure JavaScript is allowed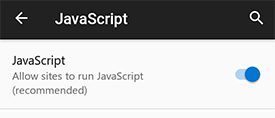 Enable JavaScript – Chrome for Android
Open the Chrome app
Tap the three dots in the upper right corner
Go to Settings
Go to Site Settings
Go to JavaScript
Ensure JavaScript is allowed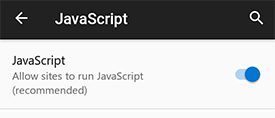 While there are many other browsers and operating systems available, unfortunately we cannot support them all. In this post, we've done our best to cover the most widely used browsers and devices. Browsers not listed here are not recommended for use with Corexcel's online courses. Check the system requirements for the course you would like to take.
If you've attempted to work through the instructions above but are still having trouble, please call our offices during business hours at 1-302-477-9730, Monday – Friday, 9:00 a.m. – 5:30 p.m. EST. Our Customer Service team is happy to help. If you prefer email, send your request through our contact form. A representative will respond within one business day.