Coaching Job Skills

Online Workplace Skills Course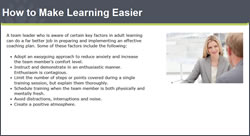 Improving relations with your manager you will improve your productivity and reduce the amount of stress in your daily job. The Coaching Job Skills online course will help you communicate your team's accomplishments to your manager and influence your manager on working conditions. It will also teach you to accurately interpret communication from the manager to your work team. Most people will take approximately 60 minutes to complete the course.
Course Cost
$2450 for 50 online course seats
Course Lessons
Introduction
Effective Coaching
Assess What You Know
Coaching Job Skills
What is Coaching?
Coaching Skill Practice
Enhancing Your Coaching Skills
Conclusion
Course Objectives
Distinguish between performance problems that require coaching and those that can best be handled with clearer instructions.
Understand the importance of observation and analysis before coaching a team member.
Involve the team member in the coaching process and increase their accountability.
Related Materials
This online course is a module designed for individuals, but it can also be used as pre-work or post-work for the instructor-led version of Coaching Job Skills. If you are interested in staff training, please visit our Coaching Job Skills training materials page.