Leadership Essentials Training Materials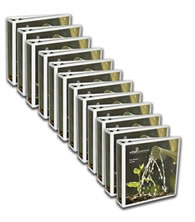 The Leadership Essentials series consists of training modules that can be used as stand alone skills courses or grouped together to address some of today's most pressing business issues in your organization. Each module has it's own administrative kit to give trainers all the tools needed to present this dynamic content. The participant workbooks are formatted to follow the content presented using the administrative kit. Choose one or all of the modules listed on the right to help your organization reach it's full potential.
The relationships of workers with their peers and bosses are as valuable to a successful business as that business' relationship with its clients. If your workforce does not function in harmony, your business will suffer.
Leadership Essentials training materials will cover the basic aspects of the workplace: Communication between employees at all levels, the issues involved in change and how your workers handle change, how to improve productivity through job skills and work habits, and providing effective discipline are all areas covered in this series.
These skills are taught in classes provided by either a Corexcel instructor or one of your own in-house instructors. Corexcel also offers the option of having one of its instructor teach the class, and the effective teaching skills they have gathered, to your in-house instructor in our train-the-trainer program.
Many of these course are also offered online to give your employees the flexibility to complete the program at their own pace.
Leadership Essentials Courses
If you have any questions about these courses or how they can be implemented, please give us a call at 1-888-658-6641 in the U.S., 1-302-477-9730 outside U.S., or use our contact form.