Finding Long-Term Care
The search for the right community begins with sorting out the options. There are several types of facilities that may be appropriate for someone with FTD. There are not yet facilities designed specifically for people with FTD, so it means finding the best match among the available options. Placement will depend on finding a balance between the level of support the patient requires and the skilled care needed to ensure safety and quality of life. Factors such as location and cost (Medicaid?) often determine the specific options available. Part of the placement problem may be the person's age. A lot of communities will not take residents under age 60.
Assisted living facilities (ALF) (also called board and care, adult living, supported care) bridge the gap between living independently and living in a nursing home. Assisted living typically offers a combination of housing and meals, and supportive and health care services. Definitions of assisted living vary from state to state. ALFs are usually designed for people who do not have severe medical problems but who need help with personal care such as bathing, dressing and grooming, meal preparation and medication management.

Alzheimer's or dementia special care units are designed to meet the specific needs of individuals with Alzheimer's disease and other dementias. Special care units can take many forms and exist within various types of facility care. Such units most often are cluster settings in which persons with dementia are grouped together on a floor or a unit within a larger care facility. There are facilities, however, that are wholly dedicated to the care of people with dementia. Many families may find the closest fit for care of someone with FTD is in a dedicated dementia-care unit or facility.

Nursing homes (also called skilled nursing facility, long-term care facility, custodial care) are facilities with 24-hour medical care available, including short-term rehabilitation (physical therapy; occupational therapies and other services) as well as long-term care for people with chronic ailments or disabilities that require daily attention of RN's in addition to help with personal care such as bathing or dressing or mobility. Most nursing homes have services and staff to address issues such as nutrition, skin care management, care planning, recreation, spirituality and medical care. Nursing homes are usually licensed by the state and regulated by the federal government.

Psychiatric facilities serve patients with seriously agitated or aggressive behavior. Psychiatrists and nurses assist in the evaluation of medication interventions, and a secure environment helps to ensure patient safety. There are different types of behavioral mental health facilities from acute care community in-patient units to long-term state institutions.
Across all levels of care, the placement is more likely to succeed when family members develop a partnership with the facility administration and caregivers to work together in providing quality patient care. Frontotemporal degeneration is still unfamiliar to many facility providers. It will take a village of families, professionals, and supportive care team members to educate, advocate, and show support staff how to be an important member of the care team. Everyone involved will need to share the goal of providing the best possible care.
The Transition from Home to Facility Care
People with frontotemporal degeneration often have difficulty adjusting to a new environment. The change means that for a time they may have difficulty finding things; feeling comfortable with new people and routines; they may feel frustrated or angry.
FTD families face an additional challenge in that most professional caregivers are not familiar with the behaviors common to frontotemporal degeneration, which are so different from those of Alzheimer's. FTD patients are typically younger and stronger so a different approach is needed to address aggressive behaviors that may seem to present a more physical threat to facility staff and residents.
The knowledge that family caregivers have is tremendously valuable to facility staff. Nurses and professional caregivers will not have as much experience as this resident's family, and are generally eager to learn what they can to provide good care. When family members appreciate the value of their own experience as well as the multiple demands on staff (from administrative changes, staff shortages or demanding residents), a trusting partnership can develop that benefits everyone, especially the patient. Even though the family has shifted the responsibility of day-to-day care over to the facility, it is important that they remain an active partner with the staff to ensure the right approach and best care for a loved one.
What's Going On?
When a person with FTD "acts out" the first step for professional caregivers is to observe and evaluate for physical ailments that may be triggering the behavior. Could they have a urinary tract infection? Are they arthritic and in pain? When was the last time their teeth/mouth was checked for sores, infected teeth or other oral concerns? Is there a fecal impaction, decubitus (pressure) ulcers, an upper respiratory infection like pneumonia? Have there been any changes in environment, roommate or medications lately? All of these could provoke anger and loss of control for the person with FTD. Sometimes we have to read what the problem is through their body language. Anti-depressants and tranquilizers have been shown to improve some symptoms.
Available Treatments
Since FTD is a multi-system disease the management of the disease will require a comprehensive treatment approach. This means that physicians and professionals from different specialties (e.g. neurologist, primary care, pharmacist, physical/occupational therapy, social worker, etc.) work as a team to collaborate to provide optimum treatment of each symptom without worsening other FTD symptoms. This can be accomplished in the home, through a home health agency, through an adult day program; in a rehabilitation center or in a long-term care environment.
Medications and Proper Usage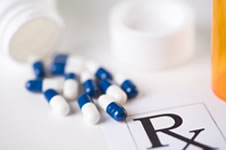 Antidepressants called selective serotonin reuptake inhibitors (SSRIs) may offer some relief from apathy and depression and help reduce food cravings, loss of impulse control and compulsive activity.
Doctors may prescribe anti-psychotics, medications that can alleviate extremely unrealistic or disorganized thinking such as hallucinations, delusions and aggression. Older anti-psychotic medications that block dopamine may be dangerous for FTD patients because some of them have Parkinson's disease, which causes a loss of dopamine, a chemical messenger that transmits signals within the brain.
Cholinesterase inhibitors - the class of drugs currently used to treat memory symptoms in Alzheimer's - do not help FTD patients. These drugs temporarily increase supplies of the messenger chemical acetylcholine to failing nerves, but FTD does not affect nerves in the acetylcholine communication system.
According to the NIH, the use of Alzheimer's medications to improve behavioral and cognitive symptoms in people with bvFTD and related disorders is being studied, though results so far have been mixed, with some medications making symptoms worse.
Certified Genetic Counselor (CGC)
CGCs provide information and support to individuals and families when there is a multi-generational history of dementia or an increased risk of an inheritable form of FTD. A CGC can review a family's medical history and analyze inheritance patterns, offer advice on potential inheritable risk factors, and offer guidance on options for more information including the possibility of genetic testing. CGCs are often part of the teams at specialized clinical or research programs at hospitals or medical centers. Some counselors have private practices or will work as a consultant to doctors or hospitals. You can find a listing of certified genetic counselors through the website of the National Society of Genetic Counselors (www.nsgc.org).