What Is Happening in Nursing Homes?
According to recent statistics, falls among nursing home residents occur frequently and repeatedly. Over 2000 older adults living in nursing homes die each year from fall-related injuries. Those who survive falls frequently sustain hip fractures and head injuries that result in permanent disability and another step down in their quality of life. Nursing homes with 100 beds typically report 100 to 200 falls a year, but many more falls go unreported, the CDC says. As many as half of the nation's nursing-home residents fall at least once every year - and many fall more than once.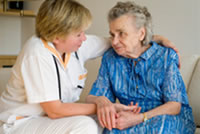 About 35% of fall injuries occur among residents who cannot walk. These are people who are frail, have multiple chronic conditions, have memory problems and have difficulty with their basic activities of daily living. Often they forget to use a walker, cane or wheelchair. They need to go to the bathroom, so they just get up. This causes a chain reaction of events that often includes more surgery, traumatic head injuries, more medications, more skin breakdown, and increased risk of infections and bed sore complications. This can all lead to a quicker death and/or greatly reduced quality of life.
Some of the most common issues and causes of falls in nursing homes include:
Muscle weakness and gait problems
Transferring (from the bed to a chair or in and out of the shower)
Poor foot care and shoes that do not fit properly or that are not appropriate for the person's current condition
Another resident pushed or knocked the person over
Sedatives and anti-anxiety drugs affect the central nervous system, and are of particular concern. (Fall risk is significantly elevated during the three days following any change in these types of medications.) Environmental dangers exist in nursing homes and can include wet floors; poor lighting; tree debris in the outside area such as wet leaves or pine cones; squirrels or other small animals that startle a resident; incorrect bed height; improperly fitted or maintained wheelchairs; and incorrect use of walking aids.
Fall Prevention Statistics
One out of five hip fracture patients dies within a year of their injury.
Treatment typically includes surgery and hospitalization, usually for about one week, and is frequently followed by admission to a nursing home and extensive rehabilitation.
One in three adults who lived independently before their hip fracture remains in a nursing home for at least a year after their injury.
Researchers estimate over 234,000 people ages 15 and older go to the emergency department each year because they got hurt in the bathroom.
The study found two thirds of injuries happened in a shower or tub.
Falls are the most common cause of traumatic brain injuries (TBI).
(Source: Centers for Disease Control)
Final Fall Prevention Tips
Pick up the clutter (i.e. books, magazines, boxes, and other objects on the floor).
Rearrange furniture if necessary.
Build upper and lower body strength.
Increase stability and improve awareness of center of gravity.
Maintain proper nutrition.
Reduce alcohol consumption.
Use assistive aids in sitting and standing.
Create a fall awareness program.
Check the home/community often for possible fall risks.
Remove and constantly be aware of any dangerous and potential fall issues.
References and Resources
Centers for Disease Control and Prevention
https://www.cdc.gov/media/releases/2016/p0922-older-adult-falls.html
Preventing Falls: A Guide to Implementing Effective Community-Based Fall Prevention Programs
https://www.cdc.gov/homeandrecreationalsafety/pdf/falls/fallpreventionguide-2015-a.pdf
CDC Falls Prevention
www.cdc.gov/ncipc/duip/preventadultfalls.htm
The American Geriatrics Society Guideline for the Prevention of Falls in Older Persons
http://stopfalls.org/faqs/american-geriatrics-society/
Mayo Clinic Fall Prevention
https://www.mayoclinic.org/healthy-lifestyle/healthy-aging/in-depth/fall-prevention/art-20047358
National Association of Area Agencies on Aging
http://www.n4a.org/about-n4a/
http://agingcarefl.org/resources-on-fall-prevention/
The Independence Exercise Chair
http://lp.americancreative.com/MyiChair/index2.php