Conflict Resolution in Nursing

1.5 Contact Hours

To successfully complete this course and receive your certificate, you must read the content online or in the downloadable PDF, pass the post test with a 70% or better, and complete the evaluation form January 1, 2021.
You will only be asked to pay for the course if you decide to grade the post examination to earn a certificate with contact hours.
Corexcel is accredited as a provider of continuing nursing education by the American Nurses Credentialing Center's Commission on Accreditation (ANCC).
This activity was developed by Corexcel without support from any commercial interest.
It is Corexcel's policy to ensure fair balance, independence, objectivity, and scientific rigor in all programming. In compliance with the American Nurses Credentialing Center (ANCC) we require that faculty disclose all financial relationships with commercial interests over the past 12 months.
No planning committee member has indicated a relevant financial relationship with a commercial interest involved with the content contained in this course.
Corexcel's provider status through ANCC is limited to educational activities. Neither Corexcel nor the ANCC endorse commercial products.
Course Description
This continuing education course is intended to help nurses identify conflict, understand various types of conflict, implement strategies to effectively manage conflict, and understand how to minimize conflict and prevent escalation of conflict situations in the nursing environment.
Learning Objectives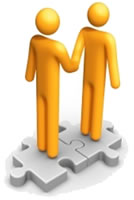 After completing this course, participants should be able to:
Define conflict and effective communication skills.
Identify four general types of conflict.
List the four primary types of conflict in nursing.
Describe five strategies used to manage conflict.
Identify four components of effective communication skills.
List three rules for effective negotiation.
Explain four organizational tactics for preventing and resolving conflict.
Conflict and Effective Communication
Conflict resolution skills are essential, not just for nursing leadership, but for all nurses. Nurses, in general, have been found to lack conflict resolution skills and often use avoidance or withdrawal when confronted with conflict. In order for conflict to be managed successfully, effective communication skills are necessary. Effective communication skills are skills that stress resolution and a positive outcome, allow for the discussion of the issue without blame, and include the ability to clearly express oneself to avoid misunderstandings and miscommunication.
Conflict can be defined as a state of disharmony that occurs within a group of people with differing viewpoints, opinions, values, or priorities. Nurses need to be able to recognize and accommodate differences in the workplace while striving to minimize conflict. Conflict is not always a negative thing. When handled effectively, a little conflict can promote organizational and personal growth. Conflict left unchecked, however, can paralyze a group and interfere with quality patient care. Continued conflict further leads to higher staff turnover rates, increased healthcare costs, patient dissatisfaction and an overall decrease in organizational morale.
Quality and safe patient care depends on a collaborative work environment that stresses teamwork and communication. The Joint Commission developed a leadership standard, effective January 1, 2009, to address issues of conflict in the workplace. This standard calls for an organizational code of conduct that defines acceptable versus disruptive or inappropriate behaviors. The standard also calls for leaders to create and implement processes to effectively manage conflict in the workplace. The Joint Commission report also identifies two main factors involved in healthcare workplace conflict:
Personal Factors: The Joint Commission reports that the stress involved when dealing with high-emotion situations, especially when coupled with fatigue can lead to intimidating or disruptive individual behavior. Healthcare professionals who possess characteristics such as self-centeredness, immaturity or defensiveness are more prone to these types of behavior and often lack interpersonal, coping, or conflict management skills.
Organizational Factors: The same report also points out how the uniqueness of the healthcare cultural environment can create challenges for interpersonal communication and trust issues between team members. The healthcare environment is marked by productivity demands, cost-containment issues, embedded hierarchies and the ever-present fear and stress caused by the possibility of litigation. A continual flux of change is present in healthcare, further contributing to an environment where conflict can be expected and must be dealt with effectively for positive outcomes.