Advanced Medical Terminology Instructor-led training course presented on-site, at your facility. Students taking Medical Terminology for themselves may prefer one of our other medical terminology course.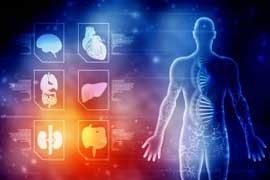 What is Advanced Medical Terminology?
Advanced Medical Terminology is an instructor-led course. Advanced Medical Training builds on knowledge gained through work experience or by taking our Medical Terminology Class. In five, three-hour sessions, students learn the terminology associated with the eight major body systems. Discussions in Advanced Medical Terminology focus on the treatment and etiology of the disease conditions related to each system as well as the associated clinical procedures and laboratory tests. Lecture is supplemented with audiovisuals, case studies, and learner participation.
Who in Your Organization Will Benefit?
Non-medical employees who review and transcribe complex clinical data can also benefit from our Advanced Medical Terminology training course. Participants who successfully complete Advanced Medical Terminology will be able to spend more time comprehending clinical data rather than deciphering or misinterpreting the data.
Accurate clinical data
Drugs get to market faster
Improved employee productivity
Enhanced employee job satisfaction
Increased employee interest in your company's products and services
What Content Will Be Covered in this Course?
Our standard instructor-led medical terminology program addresses any five of the following body systems:
Cardiovascular
Respiratory
Endocrine
Renal
Circulatory
Gastrointestinal
Immune
Nervous
What Are the Goals of this Medical Terminology Course?
Recognize advanced medical terms associated with various body systems.
Identify surgical technology used with the various body systems.
Recognize laboratory tests and their values associated with various body systems.
Discuss the clinical procedures used on various body systems.
Relate the practical applications of using medical terminology with case reports, autopsy records and x-ray reports.
Options
Corexcel will customize the curriculum to emphasize the company's culture and specific participant needs.
Participants who attend all of the course sessions in their entirety, pass the post test with a 70% or better, and submit a course evaluation form, will be eligible to receive a certificate with Continuing Education Units (CEUs) for this course.
Corexcel is accredited by the International Accreditors for Continuing Education and Training (IACET) and is authorized to issue the IACET CEU.
Advanced Medical Terminology Training Request Form
Indicates required field.