Making Customer Recommendations

Online Course for Making Sales Recommendations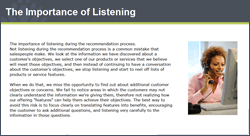 Making Customer Recommendations is a skill builder designed to increase your effectiveness in listening and making recommendations to your customer. This course is interactive and assumes your commitment to learning how to do your job more effectively. After completing this course, your sales and customer service team will understand how to provide solutions and build business relationships with your customers. Most people will take approximately 30 minutes to complete the course.
Course Cost
$2450 for 50 online course seats
Course Lessons
Introduction
The Four Step Recommendation Process
The Importance of Listening
Conclusion
Course Objectives
Make clear recommendations to your customers based clearly on the clues you identified during the discovery process, the agreement you and the customer have reached, and the objectives you aim to meet through the selling interaction.