Five Behaviors of a Cohesive Team Model
What if there was a way to measure whether your team:
Trusts each other?
Engages in healthy conflict to solve problems and implement new ideas?
Commits to their decisions?
Holds team members accountable?
Focuses on achieving results?
The Five Dysfunctions of a Team model is a proven model that has been around for many years. The Five Behaviors of a Cohesive Team combines this model with the power of Everything DiSC profiles to turn areas of dysfunction into team strengths.
Five Behaviors of a Cohesive Team Model Components
Trust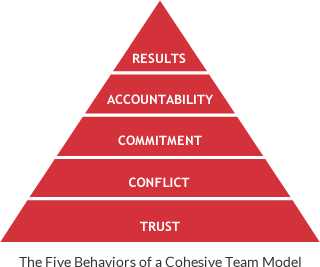 When team members are open and honest with each other, they are able to build vulnerability-based trust. It's really easy to say you trust someone, but to build a foundation of trust team members must be transparent and unafraid to tell the truth. This requires them to be vulnerable by admitting mistakes and asking for help when needed.
Vulnerability-based trust is the foundation of a cohesive team. When team members trust each other, they are finally able to engage in an unfiltered, constructive debate of ideas.
Conflict
Team leaders often steer clear from any type of conflict in their meetings. But conflict is normal and even healthy if handled correctly. Team members share their thoughts and their ideas. Often alternative ideas or opinions arise and a discussion can escalate to conflict. Five Behaviors of a Cohesive Team helps them understand how to embrace conflict and not let it become a destructive force.
When team members understand that conflict is simply part of the process, rather than avoid it, they approach it with a more positive attitude. When they trust their team members and understand that conflict is not personal, your team members will be more likely to share ideas or opinions. The Five Behaviors of a Cohesive Team will teach your team how to engage in healthy conflict.
Commitment
Once a team establishes vulnerability-based trust and has worked their way through productive conflict, it's time to make decisions. Solid decisions are made only after the constructive debate of ideas has occurred. Commitment and consensus are two very different things.When following the Five Behaviors of a Cohesive Team model, you will find team members may not all agree with the final decision, but they will be completely committed to the plan of action even. When all of your team members are committed to a clear plan of action, they will be more willing to hold each other accountable.
Accountability
The Five Behaviors of a Cohesive Team program teaches teams how to embrace accountability. Team members may be conflicted between their own goals and team responsibilities. But if they trust each other, aren't afraid of healthy conflict, are committed to the team's action plan, they should be willing and able to hold each other accountable. A team with accountability will be able to remind each other about deadlines and review others' work for accuracy. They will be able to let go of selfish ambitions and focus their energy on team results.
Results
For a team to excel, all members must work together to achieve the team's goals before their own. If team members buy in to building a strong foundation of trust, conflict, commitment, and accountability, then the group can really focus on collective results, and individual accomplishments and career development will follow. Teams focused on collective results:
Celebrate success.
Take personal responsibility to fix problems.
Do not get sidetracked by distractions.
Do not exhibit individualistic behaviors.
Point out each other's contributions.
Are willing to sacrifice for the team.

A team ensures that its attention is focused on results by making results clear, and rewarding only those behaviors and actions that contribute to those results. A functional team must make the collective results of the group more important to each individual than individual members' goals.

- Patrick Lencioni, Author Five Dysfunctions of a Team, on Results
"Five Behaviors of a Cohesive Team" is a trademark of John Wiley & Sons, Inc.