One Company Gets DiSC®

April 23, 2009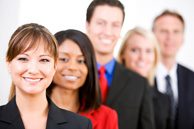 By 1978, Marston's book had been on the marketplace for 50 years but there was no easy way to make his words on paper work as a tool to change businesses. Myers Briggs Type Indicator (MBTI) was a household name, being tossed around board rooms and conference rooms as "must have" training, but implementing MBTI practically requires a degree.
By this time, different industrial psychologists had worked with both concepts and tried to build different kinds of tools using Marston's theory and Jung's archetypes without much success. John Geier, PhD was the first to successfully operationalize the DiSC model in the form commercialized by Inscape Publishing.
Inscape Publishing offers the original DiSC© instrument, says Barry Davis. "Marston didn't propose measuring it; he just proposed that the world consisted of these four psychological types and that we could make meaning of them and understand people better if we understand these generalized notions about how people function. Our original tool was called just the DiSC Personal Profile System. Then we created the DiSC Personal Profile Software, which was an electronic way to do DiSC.
Recently, Inscape Publishing changed the way it packaged its DiSC systems, literally. "We used to sell assessments. Four years ago, Inscape Publishing took everything it had learned about DiSC and organized it into a system called Everything DiSC® Facilitation System," explains Barry Davis, Vice President of Product Development and Marketing at Inscape Publishing.
Introduced in early 2008, this product and approach mark yet another step forward in helping Training and Human Resource Managers successfully use DiSC in their companies.
"We have really moved from just selling assessments, to selling all of the tools that are useful in applying DiSC to a specific organization or training need. That is really a big change," says Davis. "We still have PhDs on our staff, psychologists, who develop the assessment and measuring part and the reports but we also have instructional designers, writers, video creatives, editors, web developers and marketing researchers. We have all of the functions under this roof."
It hasn't always been that way but one reason that Inscape's Everything DiSC Application Library and the Everything DiSC Management system is doing so well and Inscapes' products are coming to market and succeeding. Another important reason is how Inscape actually develops its DiSC systems.
Inscape didn't just create a validated instrument for measuring behavioral styles nor did it stop after developing a toolbox that helps trainers implement DiSC; the company took one more, giant step to ensure that the product they were selling really worked for the businesses buying it.
About five years ago, Inscape moved out of a purely lab environment and began to invest in gaining deep business knowledge in multiple verticals. "We have spent a lot of time and energy in developing relationships with our customers. Our customers invest their energy in helping us connect with their clients – the organizations and businesses," explains Davis.
What Inscape learned is that there are three levels of customers and end users for their products. "There is the Inscape distributor – independent trainers and consultants. Then there is their client – usually a Training Manager in an organization or an HR person in an organization. The ultimate customer is the learner in the organization – the one who benefits and who is really the customer of everyone."
Inscape works with closely with its customer base, actually field testing its instruments with their clients' end users and getting feedback from the learners. "We are actively involved in three levels of feedback at every stage of development."
"Inscape has an excellent management team, research that backs what they do and a connection to companies like mine," says Sue Bowlby. Bowlby is President of Corexcel, a continuing education provider and Diamond Inscape Distributor whose mission is to provide programs and training materials that enhance the effectiveness of employees and the organizations they work for.
This inclusive approach to developing DiSC products has helped launch the Everything DiSC Application Library. Everything DiSC Management is the second piece. Davis calls it, "...the latest and greatest." Inscape will add a third piece in 2009 and plans to publish one or two new pieces to the DiSC Application library every year.
This is the fourth in a series of four articles about the DiSC model, Everything DiSC Management, the history behind it all and how it applies. The first article is titled The Concept Behind DiSC - You do the Math and the second is titled Digging into DiSC History. The previous article, Putting DiSC® Management to Work, discusses the powerful Everything DiSC Management training program and its value in a slow economy.
About the author:
Pat Muccigrosso is the former Director of Training & Development for the Business Services Group of ARAMARK and a guest author of Corexcel, specializing in DiSC-based learning assessments, online continuing education and workplace training. For more information about Corexcel and the training materials they offer, visit www.corexcel.com.
"DiSC" and "Everything DiSC" are registered trademarks of John Wiley & Sons, Inc.