Professional Certificate Programs

Online Certificate Programs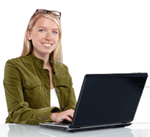 Corexcel's Online Certificate Programs enhance job skills and improve employee productivity. Choose from the following self-paced certificate programs: Leadership, Sales, Customer Service, Business Communications, Innovation & Critical Thinking, Entrepreneurship, Finance, Human Resource Management and Nonprofit Management.
Online courses are ideal for adult learners who prefer educational activities that provide immediate answers to their questions or problems. Corexcel's online certificate courses give students access 24-hours a day. View descriptions of all three certificate programs below. For a complete listing of the courses contained in a particular certificate program click the more info button or the program title.
Get Set for Leadership!
Leadership Essentials Certificate Program
People respect leaders and the inspiration they generate. Despite the massive shifts in today's business landscape, one key success factor remains constant: leadership. True leaders know how to find, develop and retain employees.
The 5 courses in "Get Set for Leadership!" teach the basics of interacting with people to maximize their performance. The Leadership Essentials Certificate Program teaches participants:
How to Create a Motivational Environment
How to Effectively Discuss Employee Performance Issues
How to Conduct an Effective Interview
Get Set for Sales!
Sales Essentials Certificate Program
Sales people face challenges today that are unprecedented in American business history. Today's customers have fingertip access to a vast array of resources that give them tremendous knowledge - and power. They demand knowledgeable, skilled sales people that can answer their questions and solve their problems quickly.
"Get Set for Sales!" includes 9 courses that build a solid sales foundation. The Sales Essentials Certificate Program teaches participants how to:
Increase productivity with territory and account management.
Strengthen customer relationships with increased credibility, understanding behavioral styles and customer focused sales interviews.
Build sales by asking the right questions, overcoming objections and gaining commitment.
Get Set for Customer Service!
Customer Service Essentials Certificate Program
The winning customer service formula for the new century includes understanding the customer, learning how to put the customer first and leveraging the potential of every person who comes in contact with customers.
Each employee holds extraordinary influence over the customer relationship. Their interactions can attract new customers and keep existing ones. The 7 courses in the Customer Service Essentials Certificate Program will teach people to:
Interact with customers to help them feel more comfortable and satisfied.
Deal successfully with difficult customers.
Ask questions to discover and meet customer needs.
Handle complaints, resistance and objections effectively.
Certificate in Business Communications
Business Communications Certificate Program
Communication in business requires the writing skills necessary to present your ideas to your audience quickly while keeping their attention. Effective Business Writing will help you keep your writing concise and develop good proofreading techniques, while Effective Presentations will focus on creating interesting PowerPoint presentations. The Business Communications Certificate Program will help you:
Define the four major factors contributing to effective business writing.
Recognize the role of the audience and understanding their needs.
List and recognize techniques for overcoming writer's block.
Write effective business emails and recognize the appropriate use of email in organizational settings.
Develop checklists for organizing, writing and revising.
Recognize what makes communication effective.
List key factors for effective presentations.
Describe four steps of purposeful communication in presentations.
Recognize key visual considerations for PowerPoint slides and presentations.
Understand how to organize and create PowerPoint presentations.
Certificate in Innovation and Critical Thinking
Innovation and Creative Thinking Certificate Program
This four course suite focuses on creativity and innovation in the business world. You will learn how to develop group creativity and increase innovation in companies. You will also apply critical thinking skills to problems in the workplace. After completing the Innovation and Creative Certificate Program, you will be able to:
Explain the connection between creativity and innovation.
Recognize the importance of diversity in team creativity.
Outline key factors for an innovative organization.
Overcome critical thinking and creative barriers for teams and organizations.
Understand logic and the process of systemic problem solving.
Discuss issues surrounding innovation in the public sector.
Explain the uses of creative tools such as mind mapping in the business environment.
Certificate in Entrepreneurship
Entrepreneurship Certificate Program
Entrepreneurs are their own boss, and it is important to know how to develop an idea into a successful venture in a changing market. With this online certificate program, you will learn the basics that all business owners need to know, such as business law, accounting and finance structures, how to lead and manage, and marketing for your new venture. Upon completion of the Entrepreneurship Certificate Program you will be able to:
Describe the characteristics of a successful entrepreneur.
Outline the eight stages of the entrepreneurial process.
Discuss issues in planning, funding, and implementing the plans for a new business venture.
Describe the managerial roles of an entrepreneur.
Describe techniques for managing time, organizing, planning, and prioritizing responsibilities.
Describe the process of staffing an entrepreneurial venture.
Describe the role of strategy and marketing in an entrepreneurial setting.
Describe the evaluation of the market for a new venture, including market segmentation, target marketing, and identifying customer needs.
Certificate in Finance Essentials
Finance Essentials Certificate Program
The Finance Essentials Certificate Program teaches you financial basics for the business world. This finance essentials course suite uses selected readings from the Harvard Business School, financial models, and real case studies. Learn how to interpret financial statements and business statistics, assess risk, and manage budgets. Upon completion of this program, you will be able to:
Identify the financial statements included in a company financial report.
State the impact of business activities on cash flow.
Perform calculations using financial ratios.
Identify and describe the structure and function of a company finance department.
Recognize and define the five key financial markets.
Explain interest rate determination and the impact of interest on an organization.
Explain how diversifiable risk can be lowered using portfolio investing.
Be able to prepare a master budget.
Perform calculations for a sales, production, and cost of goods sold budget.
Certificate in Human Resource Management
Human Resource Management Certificate Program
The Human Resource Management Certificate Program is designed to help managers of small companies develop a human resource strategy. You will learn the basics of human resources such as managing benefits, pay policies, and hiring practices. After completing this engaging series of courses, you will be able to:
Define and build processes and procedures to help an organization reach its goals.
Monitor, train and utilize skilled human resource staff.
Ensure employer's business operation and staff working environments conform to both federal and state business regulations.
Build and maintain a productive and supportive working environment for all employees.
Maintain effective employee work policies that will ensure all business goals are achieved.
Build a sense of team spirit and collaboration.
Certificate in Leadership
Leadership Strategies Certificate Program
The Leadership Strategies Certificate Program is based on Harvard Business School professor D. Quinn Mills' text, Leadership: How to Lead, How to Live. You will focus on such leadership topics as encouraging change, leading effective teams, charismatic leadership, and achieving work-life balance. After working through these interactive exercises, videos, selected readings, case studies, you will be able to:
Explain the role of leadership ethics.
Identify and develop five central skills needed for effective leadership.
Identify the major sources of conflict in work-life balance.
Understand strategic change and managing a changing environment.
Identify differences in primary and secondary roles filled by teams and leaders.
Recognize the key sources of motivation for effective teams.
Certificate in Nonprofit Management
Nonprofit Leadership Certificate Program
The Nonprofit Leadership Certificate Program will introduce you to current issues in nonprofit management. You will work through a series of self-paced courses covering topics such as leadership, fund-raising, capital campaigns, budgeting, board and volunteer development, reading financial statements, marketing, and strategic planning. Once you complete this certificate program, you will be able to:
Describe the strategic planning process and how to create mission statements.
Explain the process of a nonprofit marketing plan.
Describe how target markets can be identified for donors.
Define leadership and explain its importance in the nonprofit sector.
Analyze a statement of activities and statement of cash flows.
Analyze a nonprofit operating budget through variance analysis.
Describe how a capital budget is used and created.
Discuss different models for organizing a nonprofit board.
Describe how nonprofits can develop and maintain a strong volunteer base.
Describe the different types of leadership teams and committees that may be formed for campaign support.
Describe the key concepts related to nonprofit fund-raising, such as annual campaigns, capital campaigns, and planned giving.