EPIC System for Online Profiles

Electronic Profile Information Center
Online administrative account system for profile distribution and retrieval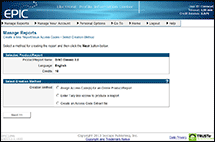 EPIC, is an online profile and report management system that provides an easier and more cost-effective solution for purchasing, delivering and retrieving online profiles and their associated reports. We can set up an online EPIC account that will allow you to manage profile distribution and report generation 24 hours a day.
If you already have an EPIC account you can order credits using our EPIC order form below.
EPIC account owners have the ability to access to all of the online profiles we offer. From your PC, you can administer access codes and allow people to complete profiles online. Once a respondent finishes, the resulting report goes to the respondent or to you - you decide!
Products Available on EPIC
EPIC Administrative Accounts & Credits
EPIC account set up fees are waived when you purchase 250+ EPIC credits (i.e. 25 online DiSC Profiles). If you're ordering more than 250 EPIC credits don't add an EPIC account to your cart. A representative will automatically contact you to set up your account after the credit order is placed. EPIC accounts can be set up on the same day if they are ordered by 5:00 p.m. EST.
EPIC Account: $162.00
Use the form below to order credits for use in an online EPIC account. A free account is included with a purchase of 250+ credits.
EPIC Credit Ordering
* Ordering at this level entitles you to receive a free online EPIC account ($162 value). If you order 250+ EPIC credits one of our Customer Service Representatives will contact you regarding the option to set up the account.
Explore EPIC with our Demo Account
If you would like to see how easy the EPIC system is to use, then login to our EPIC Demo account and use the following login information:
Username: corexcelonline
Password: online
Unfortunately we can't keep credits in the demo account but you will be able to see how user friendly the system is.
With EPIC you can:
Send profile access codes
Organize access codes and completed reports
Print, email or save profile reports
Generate user reports
Generate group reports
Personalize profile reports
Personalize questionnaire splash pages
EPIC has a robust Help Menu and extensive tutorials to help you get up and running quickly.
We realize that not everyone wants a "teach yourself" experience. We're always happy to give you a personalized EPIC tour and a complete orientation when you open an EPIC administrative account. Order an EPIC account or EPIC credits using the order forms above.
Available EPIC Product Details
Starter accounts are typically set up with access to the DiSC Classic Profile and the associated group reports. For organizations that wish to offer a broader range of assessments, the products below can be installed into your account with a phone call (1-888-658-6641) or an email request.
With 30 years of proven reliability and over 40 million users, DiSC® Classic remains the most trusted learning instrument in the industry. The new DiSC Classic 2.0 report answers the growing demand for a personalized report with expanded narrative. Its informal, conversational style brings to life all the elements of the original DiSC instrument.
A new expanded DiSC report is now available! This report combines the narrative report of the DiSC Classic 2.0 with the power of the supplemental reports that have only been available with the DiSC PPSS. This new 'Plus' report allows you to print the narrative report and up to six supplemental reports.
The six supplemental reports are:
Strategies for Creating a Positive Relationship
Relating to People and the Environment
Strategies for Managing
Approach to Managing Others
Strategies for Sales Management
Approach to Selling
DiSC PPSS helps individuals and teams improve their effectiveness in a wide variety of business applications, including sales, management, and customer service.
Choose from the:
DiSC Sales Action Planner
DiSC Customer Service Action Planner
DiSC Management Action Planner
DiSC Managing Performance Action Planner
The Team Dimensions Profile helps individuals work from their strengths by identifying their most natural team role, while giving them added appreciation for the contributions of others.
The Time Mastery Profile® helps individuals set priorities and manage time more effectively by evaluating their effectiveness in 12 critical areas.
The Coping and Stress Profile focuses on the interaction of stress, coping resources, and satisfaction in four life areas; personal, work, couple and family. Participants learn to effectively use four relationship coping resources to reduce stress.
The Discovering Diversity Profile helps employees learn how they respond to workforce diversity and where they need to develop increased understanding.
The Work Expectations Profile helps employees identify their high work expectations and provides feedback on how to communicate them, get them met, and adjust them when necessary. The result? Increased productivity and reduced turnover.
The Personal Listening Profile is designed to help people accept interpersonal differences and adopt behavioral strategies that foster considerate, collaborative, and effective relationships.
Everything DiSC® Sales Profile
A sales specific profile based on the DiSC model. Increases sales effectiveness by teaching participants to understand DiSC sales styles, to identify and understanding customer's DiSC purchasing styles and how to adapt their DiSC style to meet customer needs.
Everything DiSC Management Profile
A management specific profile based on the DiSC model. Managers learn to develop and improve their management styles, communicate more effectively and improve employee engagement.
Everything DiSC Workplace Profile
A workplace specific profile based on the DiSC model. This profile can be used with everyone in your organization to improve communication and the quality of working relationships.
"DiSC", "Everything DiSC", "Time Mastery Profile", "Discovering Diversity Profile" and "Personal Listening Profile" are registered trademarks of Inscape Publishing, Inc.