Job Search Class | Ace Your Job Search

Resume and Interview Coaching Course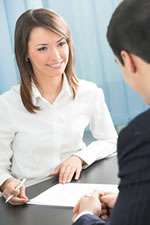 This Job Search Class is designed to improve your resume writing skills and help you make a professional impression in job interviews. Learn how to tailor your resume to the job you want and find the right fit for your career path. You will also review interview techniques and practice responding to tough interview questions.
Target Audience: This course is intended for anyone looking for job search tips, interview techniques or help preparing a resume.
Online Course Cost: $79.00
CEUs: 0.5
Career Development Course Topics
Personal fulfillment and goal setting
Customizing your resume and cover letter
Interview skills: Make the right impression
Interview skills: Ace the tough questions
Conclusion: The right job and career development
Career Development Course Key Features
Course access time: 30 days
Online, self-paced course
Audience: Anyone seeking employment or job search tips
Practice answering tough interview questions
Ask the Expert feature - Submit your questions directly to our experts
Certificate for 0.5 CEUs
Career Development Course Objectives
After completing Ace Your Job Search, you will be able to:
Identify your career development path and employment priorities.
Develop a more effective resume and cover letter.
Identify the five stages of the interview process.
Be able to thoroughly research a company before a job interview.
Anticipate tough interview questions.
Explain how past success translates to future success in your desired job position.
Recognize if a job aligns with your career objectives.
Career Development Course Credit & Completion Time
You will have full access to our Career Development Course for 30 days. This resume and interview coaching online course is self-paced and completion time depends on many factors, including the student's prior knowledge, connection speed, reading comprehension, exercises and length of video commentaries. The certificate of completion for this course is worth good for 0.5 CEUs.
Completion Requirements: Learners must achieve an average test score of at least 70% to meet the minimum successful completion requirement and qualify to receive IACET CEU credit. Learners will have three attempts at all graded assessments.
Volume Pricing: For organizations that wish to enroll more than 10 employees in this online course or any of our other online courses please use our contact form. Volume pricing is available, as well as the ability to add the courses to an existing Learning Management System (LMS).