Solving Workplace Problems

Online Course for Problem Solving Strategies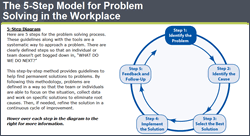 Solving Workplace Problems is an online course designed to help team leaders address gaps in the workflow process. This course focuses on a five-step process for identifying organizational problems and creating solutions with the help of team members. This course will take approximately 90 minutes to complete.
Course Cost
$2450 for 50 online course seats
Course Lessons
What is Problem Solving?
Why You Need to Be a Problem Solver
The Five Step Model for Problem Solving in the Workplace
Brainstorming
Writing a Problem Statement
Step One - Identify the Problem
Step Two - Identify the Cause
Step Three - Select the Best Solution
Step Four - Implement the Solution
Step Five - Feedback and Follow Up
Course Objectives
Follow a step-by-step problem solving process.
Write problem statements that clearly define problems encountered in work situations.
Involve team members in evaluating root causes of problems.
Create plans to implement and support solutions to problems.
Related Materials
This online course is a module designed for individuals, but it can also be used as pre-work or post-work for the instructor-led version of Solving Workplace Problems. If you are interested in staff training, please visit our Solving Workplace Problems training materials page.