Resolving Conflicts

Online Course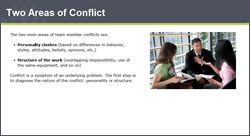 Resolving Conflicts teaches you the skills to recognize conflict and resolve disputes quickly and effectively. By understanding the signs of conflict and by getting to the root cause, you can eliminate the issue and minimize the impact. Facing these conflicts head-on allows you to preserve the integrity of your team and to demonstrate a commitment to individual performance and growth. This conflict resolution online course will take about 60 minutes of your time.
Course Cost
$2450 for 50 online course seats
Course Lessons
Introduction
Assess What You Know
Resolving Conflicts Practice
Enhancing Your Conflict Resolution Skills
Conclusion
Course Objectives
Distinguish between the two major sources of conflict: personality clashes and work structure problems.
Be aware of the positive and negative impacts of conflicts.
Help individuals involved in conflicts understand each other's point of view and lead them to agree on the facts and a solution.
Related Materials
This online course is a standalone module, but it can also be used as pre-work or post-work for the instructor-led version of Resolving Conflicts. If you are interested in training your staff, please visit our Resolving Conflicts training materials page.