Essential Skills of Leadership

Leadership Training Materials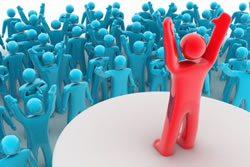 Essential Skills of Leadership is a leadership skills training program that teaches you how to improve employees' self-esteem, focus on behavior, and encourage them to commit to the common goals of your organization. The training materials will provide your managers with new leadership qualities, enable them to practice people skills in the safe environment of the classroom and apply them on the job. Teach Essential Skills of Leadership using our trainer materials or have a Corexcel trainer present the course for you.
Get up and running immediately using
Essential Skills of Leadership facilitator kits and workbooks!
Also available as an online course:
More Info
Essential Skills of Leadership Training Details
The leadership skills training materials of Essential Skills of Leadership provide a sound foundation for a true skill-transfer to take place once the participants leave the classroom. In today's complex environment, team leaders and front-line managers are having to deal with diverse issues – improving interpersonal communication and employee behavior, correcting poor work habits, and employee retention. Essential Skills of Leadership will teach your managers how to deal with these performance issues so their teams will positively impact your organization.
Delivery Options
4-hour classroom program
1-hour online course
6-18 participants recommended
Course Objectives
Deal with your team members on a daily basis to maintain and enhance their self-esteem.
Base your discussions about performance evaluation and work habits on your team members' behavior rather than on personalities and attitudes.
Involve your team members in setting goals and standards, problem solving and decision making.
Essential Skills of Leadership Benefits
Maintain or enhance team member self-esteem.
Focus on behavior.
Encourage team member participation.
Essential Skills of Leadership Participant Workbook
Participant workbooks are intended to reinforce learning as part of a facilitated training session. Access to videos and interactive exercises are not included in the workbook.
$54.00
Cognitive Exercises
Forms for Workshop Activities
Skill Practice Aids
Job Aids Section
---
Essential Skills of Leadership Facilitator Guide

$300.00
4-hour workshop designed for 6-18 participants
Complete instructions on how to facilitate the workshop
Explanatory text for the trainer
Sample trainer narrative
Video scenarios in office and industrial settings that display positive skills discussed in the program
Transcripts of video segments
Annotation notes
PowerPoint Presentation and handouts
Self-Assessment Worksheet
Memory Jogger Card