Essential Skills of Communicating

Office Communication Training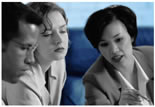 Office communication between team leader and team member is critical to the success of an organization. Essential Skills of Communicating training materials will help your managers build communication skills with employees, built on mutual trust and respect by enhancing their listening skills. Improve communication skills with these training materials.
Get up and running immediately using
Essential Skills of Communicating facilitator kits and workbooks!
Also available as an online course:
More Info
Essential Skills of Communicating Training Details
The communication skills of team managers affect employee retention, overall productivity and profit margins. The Essential Skills of Communicating workshop and online course trains your leaders in management communication. Your managers will learn the importance of open communication, sending clear messages, recognizing non-verbal cues and checking for understanding. Increase employee satisfaction and productivity by teaching your employees good skills in effective communication at work. Use our training materials to present the course yourself or have a Corexcel trainer come to your facility to present a training session on communication skills.
Delivery Options
4-hour classroom program
90-minute online course
6-18 participants recommended
Use the online course as pre or post work
Course Objectives
Construct clear, concise messages and check for employee understanding.
Manage nonverbal behaviors to reinforce the intent of your message.
Learn active listening and respond appropriately.
Essential Skills of Communicating Benefits
Create a climate of open communication.
Focus on communication as a two-way process.
Encourage team member participation.
Essential Skills of Communicating Participant Workbook
Participant workbooks are intended to reinforce learning as part of a facilitated training session. Access to videos and interactive exercises are not included in the workbook.
$54.00
Cognitive Exercises
Forms for Workshop Activities
Skill Practice Aids
Job Aids Section
---
Essential Skills of Communicating Facilitator Guide

$300.00
4-hour workshop designed for 6-18 participants
Complete instructions on how to facilitate the workshop
Explanatory text for the trainer
Sample trainer narrative
Video scenarios in office and industrial settings that display positive skills discussed in the program
Transcripts of video segments
Annotation notes
PowerPoint Presentation and handouts
Self-Assessment Worksheet
Memory Jogger Card