Diversity Awareness

Online Course for Workplace Diversity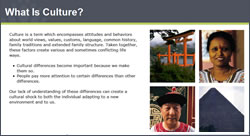 Diversity Awareness will assist you in understanding and appreciating cultural diversity. Cultural diversity means the condition of being different and being able to celebrate those differences once they are identified. Diversity Awareness is a self-paced, online course. Take as much time as you need to move through the course, learn the material, and answer all of the questions. Most people will take approximately 90 minutes to complete the course.
Course Cost
$2450 for 50 online course seats
Course Lessons
Welcome to Diversity Awareness
Our Global Village
Barriers to Diversity
Cultural Communication
Learning to Manage Diversity
Conclusion to Diversity Awareness
Course Objectives
Create an environment in which individual differences are evident, valued and respected.
Gain a clearer understanding of various terms and definitions directed to diversity.
Create a culture where diversity is a driving force, making you more aware of others and your environment.
Identify your own discomforts with the complex and diverse population that exists within the world.
Increase your appreciation of differences and enhance your ability to utilize these differences to increase problem solving and innovation.
Practice skills and principles that will allow you to position yourself proactively in a changing environment.