DiSC® Classic Facilitator Kit
Officially Titled DiSC Classic Facilitation System - Formerly Everything DiSC Facilitation System
DiSC Classic Facilitator Kit: #Q-594 USB*
The DiSC® Classic Facilitation System is the best selling DiSC-based facilitator kit in the world. Over a million people use the facilitator kits and profiles we offer to develop skills in the areas of:
Sales
Leadership
Frontline Management
Conflict Management
Team Building
Communication
* Due to security restrictions some organizations do not permit the use of USB drives. If you're in a similar situation please don't hesitate to let us know. Just call 1-888-658-6641 (in the U.S.), 1-302-477-9730 (outside U.S.), send us an email or use our contact form to request an alternative format.
The DiSC Classic Facilitator Kit has been designed specifically to help you present highly professional training sessions based around the most popular DiSC-based profiles on the market. The DiSC kit includes pre-developed modules and course outlines that help you create simple, effective DiSC based training right out of the box!
The Facilitator Kit is designed to be used with any of the DiSC profiles including but not limited to:
When you purchase the facilitator kit you get everything needed to present professional DiSC-based training sessions.
The format is improved over previous versions. You no longer need to transport a bulky binder with the training modules, a course resource CD and a separate DVD for the videos. Everything is contained on a single USB flash drive, including:
100+ PowerPoint Slides
65+ Video Segments
DiSC Training Leader's Guide (includes all training modules, outlines & scripts)
Handouts for Creating Participant Workbooks
You will also receive hard copies of the QuikDiSC® Card Game and the DiSC Classic People-Reading Guides. More information on the card game and people-reading guides can be found toward the bottom of this page.
DiSC Classic Facilitator Kit Features
Flexible: DiSC Classic Facilitation Systems are built using Insight Modules. These modules are short, self-contained presentations that can be used alone or combined to deliver professional DiSC training results.
Convenient: Detailed course outlines will help you choose the modules you want to incorporate into your presentations. You'll be up and running in no time!
Experience Based: Choose from exercises included in each module and the alternative activities to make your group's training experience a perfect fit.
Broad Scope: The DiSC Classic Facilitator Kit incorporates more than ten DiSC tools, including paper and online versions of all the major DiSC profiles.
Integrated Technology: The kit contains 100+ professionally designed, customizable PowerPoint slides with corresponding handouts that you'll be proud to use.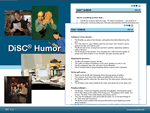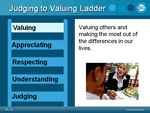 Powerful Visual Reinforcement: The DiSC Classic Facilitator Kit contains more than 65 video segments you can use to illustrate the four DiSC behavior styles. These video segments include examples of effective and ineffective communication for each style. They're presented using both team and individual scenarios. Choose to follow the kit's recommendations for video segments to use or select your own. Either way, you'll have the resources to meet all of your client's needs.
The DiSC Facilitator Kit includes:
USB Flash Drive Containing:
Leader's Guide including: DiSC Theory, Resource Guides, 11 Insight Modules, 8 Course Outlines and Fully Scripted Seminar
PowerPoint Presentations with Corresponding Handouts
Video Segments embedded with PowerPoint
Tutorial for Building & Customizing the DiSC Training PowerPoint
Sample Reports of all Online DiSC Profiles & Group Reports
Learning Aids:
QuikDiSC® Card Game
10 Everything DiSC People-Reading Guides
Note: The USB flash drive is designed for use with Microsoft Office 2010 and newer. It will also work with Microsoft Office for Mac 2008 and newer and Windows Media Components for QuickTime, by Flip4Mac. If you are upgrading to Windows 10, the USB materials will be compatible with the new Office 365. If you have any questions, please call 1-888-658-6641 in the U.S., 1-302-477-9730 outside U.S., send us an email using our contact form.
DiSC Classic People Reading Guides: Item #P-593
Excellent reference guides to help people identify their colleagues' DiSC behavioral styles. The guides provide interaction strategies for each style to reinforce the most effective methods for communicating with coworkers. After your training session ends, send participants away with the guide to use as a reference in their jobs.
QuikDiSC Card Game: Item #P-034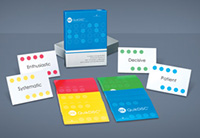 QuikDiSC is an entertaining card game that introduces learners to the behavioral styles covered in the DiSC Facilitator Kit while enhancing the principles covered in your training session. QuikDiSC cards are divided into four color-coded groups of 32 cards each. Each group has four sets of eight words that describe D, i, S, or C behavioral styles.
Call 1-888-658-6641 in the U.S., 1-302-477-9730 outside U.S., send us an email using our contact form to request addition information on the DiSC Profile.
"DiSC", "DiSC Classic" and "QuikDiSC" are registered trademarks of John Wiley & Sons, Inc.