DiSC® Profile Online - French Edition
Only Available as an Online Profile, DiSC Profile 2.0 French
For companies with U.S. headquarters, the DiSC Profile Test in French is available through Corexcel. DiSC en français was formed using a French-speaking population to ensure accurate results. The assessment questions are presented in French, while the report is able to be generated in English or French.
You can purchase DiSC en français, the DiSC Classic Profile in French, or get more details, by calling Corexcel at 1-888-658-6641 or sending an email through our contact form.
French, as well as other language versions, of the the DiSC Classic Profile are available through Wiley International Partners for companies based outside the U.S.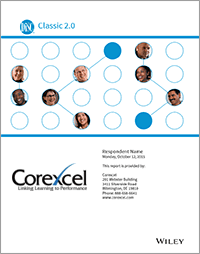 "DiSC" is a registered trademark of John Wiley & Sons, Inc.