Nursing and Nutrition: Providing Survival Skills

4.4 Contact Hours

To successfully complete this course and receive your certificate, you must read the content online or in the downloadable PDF, pass the post test with a 70% or better, and complete the evaluation form by October 1, 2021.
You will only be asked to pay for the course if you decide to grade the post examination to earn a certificate with contact hours.
Corexcel is accredited as a provider of continuing nursing education by the American Nurses Credentialing Center's Commission on Accreditation (ANCC).
This activity was developed by Corexcel without support from any commercial interest.
It is Corexcel's policy to ensure fair balance, independence, objectivity, and scientific rigor in all programming. In compliance with the American Nurses Credentialing Center (ANCC) we require that faculty disclose all financial relationships with commercial interests over the past 12 months.
No planning committee member has indicated a relevant financial relationship with a commercial interest involved with the content contained in this course.
Corexcel's provider status through ANCC is limited to educational activities. Neither Corexcel nor the ANCC endorse commercial products.
Course Objectives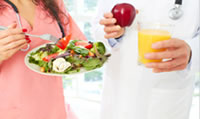 After completing this course participants will be able to:
Describe what diet education survival skills are.
Describe the relationship between diet and weight.
Distinguish between saturated, unsaturated, and trans fat on a cardiac diet.
List high sodium foods to avoid on a reduced sodium/congestive heart failure diet.
Describe the relationship between carbohydrate and blood sugar management.
List foods to limit on a renal diet.
List at least one way to assist patients in dealing with side effects of cancer treatment.
List four principles of diet treatment for inflammatory bowel syndrome.
Discuss the difference between the diets for diverticulosis versus diverticulitis.
Identify sources of high biological protein for wound healing.
Introduction
Diet education for the hospitalized patient is often overlooked because no referral is made for education or the diet is related to an old diagnosis. It is sometimes difficult for the nurse to discern how much information to provide. Often patients are dealing with more urgent medical issues and cannot give full attention to learning a new diet. It is essential to let the amount of education be patient-guided to avoid overwhelming him or her. Using valuable time to teach an uninterested patient could result in missing an educational opportunity with a motivated patient. The best course of action is to:
Inform the patient of the diet.
Be available for questions.
Provide basic written information.
Verbally emphasize a few memorable key points.
Provide contact information or refer the motivated patient to the dietitian.
Emphasizing a few key points is the crux of this learning module. For the purpose of this experience, we are referring to these points as survival skills. Survival skills are immediately useful, small pieces of knowledge patients can use at home. Then when he/she is medically and mentally ready, diet knowledge can be developed using the written material you have provided, and the patient can decide whether further education is desired. Complete nutritional education should be done on an outpatient basis where it is the main focus, without other urgent medical issues to hinder the learning process.
We hope you will find these survival skills useful. It is important to feel comfortable with the nutrition education you provide to your patients.