Human Trafficking: Recognition Signs and Help for Victims

2.0 Contact Hours

Written by: Karen Truman, PhD
To successfully complete this course and receive your certificate, you must read the content online or in the downloadable PDF, pass the post test with a 70% or better, and complete the evaluation form December 1, 2021.
You will only be asked to pay for the course if you decide to grade the post examination to earn a certificate with contact hours.
Corexcel is accredited as a provider of continuing nursing education by the American Nurses Credentialing Center's Commission on Accreditation (ANCC).
This activity was developed by Corexcel without support from any commercial interest.
It is Corexcel's policy to ensure fair balance, independence, objectivity, and scientific rigor in all programming. In compliance with the American Nurses Credentialing Center (ANCC) we require that faculty disclose all financial relationships with commercial interests over the past 12 months.
No planning committee member has indicated a relevant financial relationship with a commercial interest involved with the content contained in this course.
Corexcel's provider status through ANCC is limited to educational activities. Neither Corexcel nor the ANCC endorse commercial products.
This course meets Florida Board of Nursing continuing education requirement for a two hour course on human trafficking.
Course Description
This course is designed for all medical professionals who may encounter a victim of human trafficking. In order to be able to help a human trafficking victim, one must first have knowledge of the different motivations for human trafficking, the factors that place a person at an increased risk of becoming a victim, how traffickers take advantage of vulnerable people, and how to recognize a victim. Understanding and knowing the procedures of how to intervene, the questions to ask, and reporting possible human trafficking victims are important steps for medical professionals. The referral hotline, crisis assistance, information, and resources are critical for you to know in order to assist the possible victims under your care.
Learning Objectives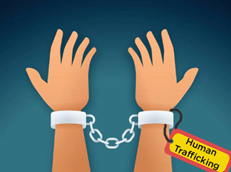 After completing this course, participants should be able to:
Identify different types and statistics of human trafficking.
Describe factors that place a person at increased risk of becoming a victim of human trafficking.
Recognize a victim of human trafficking in a healthcare setting.
Understand how traffickers take advantage of vulnerable people.
Define procedures for intervening with a victim of human trafficking.
Describe procedures for reporting victims of human trafficking.
Introduction
Human trafficking is not something that is always easy to define, or sometimes, even talk about. The sex trade is often thought about as a very grown-up activity - strip clubs, massage parlors, prostitution, often with seemingly nameless, faceless victims. Many people only picture women who have been forced into a life of sex in some faraway, foreign place. It's a common misconception that human trafficking happens somewhere else. In reality, it can be happening right down the road from where you work, in your city, and even in your own neighborhood.
According to U.S. law, human trafficking has been defined as "sex trafficking in which a commercial sex act is induced by force, fraud, or coercion, or in which the person induced to perform such act has not attained 18 years of age; or the recruitment, harboring, transportation, provision, or obtaining of a person for labor or services, through the use of force, fraud, or coercion for the purpose of subjection to involuntary servitude, peonage, debt bondage, or slavery" (Human Rights First, 2017, para. 2). Despite efforts to prevent it, human trafficking has become a rising worldwide social concern. Human trafficking (also termed human slavery) is an abuse that affects all ethnicities, genders, and age groups. Healthcare workers, in all fields, are more and more required to be cognizant of the issue of human trafficking, know how to recognize it, and know how to intervene. While law enforcement agencies and the law are there to fight human trafficking, those in the healthcare fields are being confronted over and over with the crushing and demoralizing effects this type of abuse has -- not only on the individuals -- but entire families and communities.